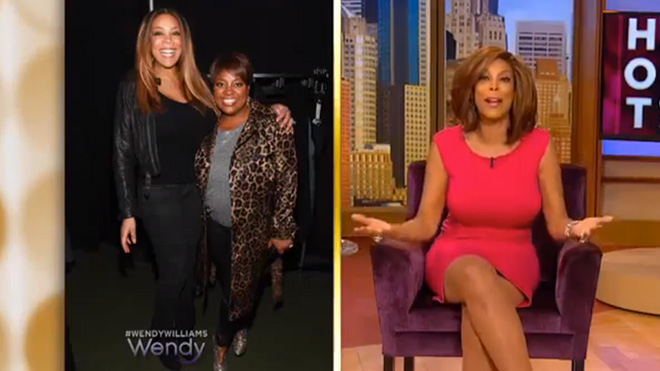 This is really hard to believe because the two seem to have a great rapport, but there's a story going around that TV personalities Wendy Williams and Sherri Shepherd are beefing over their competing wig lines. I mean, there are a vast number of scalps out there … so there's definitely room for everyone's fake hair product.
The National Enquirer claims:
Things are getting hairy between Sherri Shepherd and Wendy Williams!

The two talk-show diavs have made nice on camera, but insiders say behind the scenes they're dissing each other's wig collections.

"Sherri pretends she doesn't care about Wendy's wigs," a source told The Enquirer. "But she was overhead saying that her styles are more natural and practical, while Wendy's line seems to be geared toward young girls and drag queens. Sherri would never say it to Wendy's face of course but it was a clear jab."

Despite their business rivalry, Williams allowed Shepherd to plug her wig line during a June 17 appearance on "The Wendy Williams Show."

"Wendy heard about Sherri's nasty comment afterward, but wasn't that concerned," added the source. "She was actually more upset that she didn't know about it sooner because she would have loved to confront Sherri on the air."
Wendy Williams responded to the National Enquirer's story on her show this week, telling her live viewing audience, "It's so ridiculous!"
She explained, "Sherri's got a wig line, and her wig line is out. I've got a wig line that's out softly, but it'll be out largely around late August or September. It's called Wendy Williams Hair World."
Williams added, "The only truth to this is that we both love wigs and we both love each other."
WATCH HERE (ABOUT 5:23 IN):
Be the first to receive breaking news alerts and more stories like this by subscribing to our mailing list.