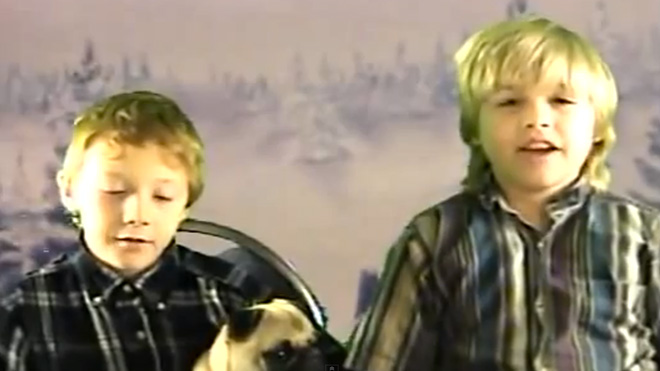 This white supremacy for schoolchildren special was shot a few years ago, but it's certainly news to me. Proving once again that prejudice is taught, look at these poor, unfortunate souls being subjected to the ways of Paula Deen and her people (allegedly).
But you know, a great reminder of America's history, just one day after our country's celebration of "freedom."
More from The Huffington Post:
[The video, most likely produced in 2009] features [the grandson of Thomas Robb, the modern-day Ku Klux Klan's national director's grandson] Andrew Pendergraft (bearing an uncanny resemblance to Disney Channel stars Dylan and Cole Sprouse from "The Suite Life of Zack & Cody") and a co-host named Alex, who holds a pug in his lap. They begin by discussing Disney's first African-American princess character, Tiana from the animated film "The Princess and the Frog."

"The princess is a black, so that is good for all the black kids out there," Pendergraft says haltingly, clearly reading from a script off-camera. "But the prince is white. It is all about how race-mixing is good. But race-mixing is wrong."

Later, Pendergraft decries the film's depiction of characters he calls "voodoo doctors [who] worship the devil." He goes on to explain voodoo as the "religion that lots of blacks used to have, but white people taught them about God."

The segment ends with his signature send-off: "Be white and proud. And tune in next week. Bye!"
WATCH HERE:
Be the first to receive breaking news alerts and more stories like this by subscribing to our mailing list.