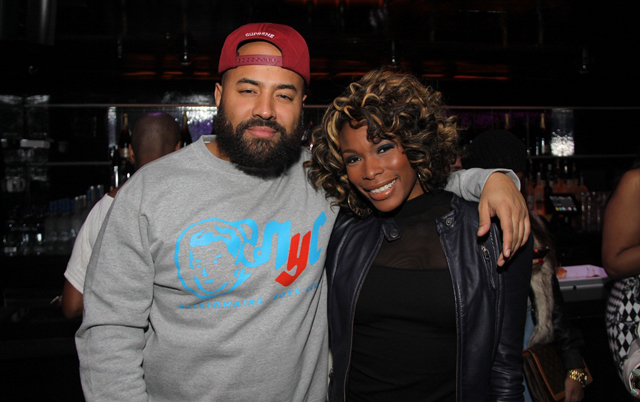 Things haven't been going well for K. Foxx as of late. First, the rumor mill has been buzzing that her VH1 reality show, "The Gossip Game" has been cancelled. Now, word comes that K. has been fired from Hot 97.
In a revealing interview with Ebony magazine, K. Foxx opened up about the demise of her career with Hot 97 and she subtly pins most of the blame for her firing on her boss Hot 97 Program Director Ebro Darden.
When asked if she and Ebro didn't get along, K. Foxx slyly threw in the fact that she apparently wasn't the only one who had difficulties in dealing with Ebro's brash personality.
I think that it's a weird thing to work with your boss [on air] on a constant basis. We were working as a team–myself, Cipha and Rosenberg. Then all of a sudden we were working [on the air] with our boss. Our little [confrontation] was what was caught on camera, but I wasn't the only one who got into it with him. Everyone did.

It's just an interesting dynamic that happens when you have to start working on the air with your boss. How do you adjust? How do you not say certain things? How do you fall back? Because ultimately, what he says, goes. But when we're in the studio and we're all equal, we have a conversation; but when your boss is in the studio, how do you argue? [Which is what we do on the show.]
Truth be told, that "joke" Ebro made about K. Foxx seeing all of the rappers' johnsons was highly inappropriate and sexist. Calling a woman a whore on the radio is grounds for a good dropkick to the throat. And Ebro be tryin' it with a lot of folks because he sees that being a jackass has made Charlamagne the God incredibly popular. Unfortunately for Ebro, he hasn't mastered that delicate balance of being a lovable jackass the same way Charlamagne has.
Not one to stay completely silent on the matter, Ebro chimed in by commenting on an article calling BS on K's victim routine.
U believe this u been punk'd–"@vladtv: K. Foxx Opens Up About Hot 97 Firing & Ebro Drama (@kayfoxx @oldmanebro) http://t.co/LflAgvCal1"

— El Viejo Ebro (@oldmanebro) July 2, 2013
Is it just me or is New York radio unlike any other city in that its radio personalities are almost as entertaining and dramatic as the celebrities they cover?
Be the first to receive breaking news alerts and more stories like this by subscribing to our mailing list.