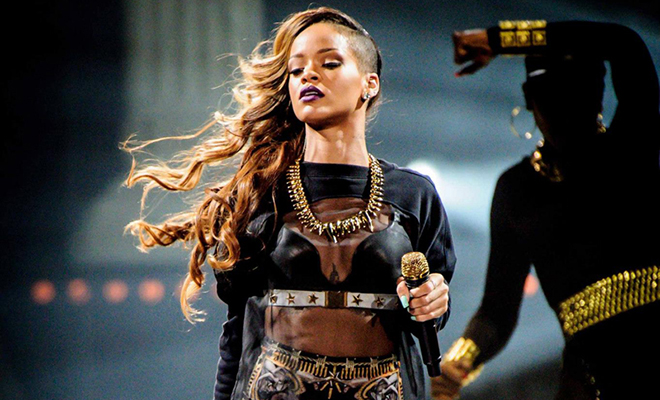 Rihanna's tour may be selling out arenas across the world, but many of the dates have started late, if not, at all. Rih-Rih has been citing illness as the culprit, although it doesn't take a genius to figure out by many of her Instagram captions that partying is the real reason behind many of the delays.
Yeah, I don't get this gorgeous specimen of pop music. You barely do anything on stage and yet you're magically one of the biggest stars in the world. All you have to do is show up and you can't even do that. What is your deal?
Who knows, but apparently the folks at Roc Nation aren't having it. Maybe they realize that while it sucks for ticket holders now, if Rihanna plays them for a fool the night of their show, that'll only bite them in the ass in the future when those same people opt out of seeing her again.
The rumor goes:
The star's mentor is Jay-Z, who runs the Roc Nation label she is signed to. He is apparently growing tired of her antics.

"Everyone can see Rihanna's not behaving herself. Fans have paid hundreds of pounds for tickets and she's regularly showing up hours late," an insider told British magazine Look. "Then she often gives lacklustre performances where she even forgets her words at times. They issued a written warning which was emailed to Rihanna."

A number of fans have lashed out at Rihanna on Twitter. She has been slammed for arriving over two hours late to shows and for giving lacklustre vocals on stage.

Hip-hop mogul Jay-Z is apparently worried his protégé could be ruining her career.

"There's no excuse because, because Jay knows exactly how talented Rihanna can be on stage," the insider explained. "He takes work very seriously and this is not what he expects from his talent. She'd better start giving her fans what they paid for."
[Source]
Be the first to receive breaking news alerts and more stories like this by subscribing to our mailing list.