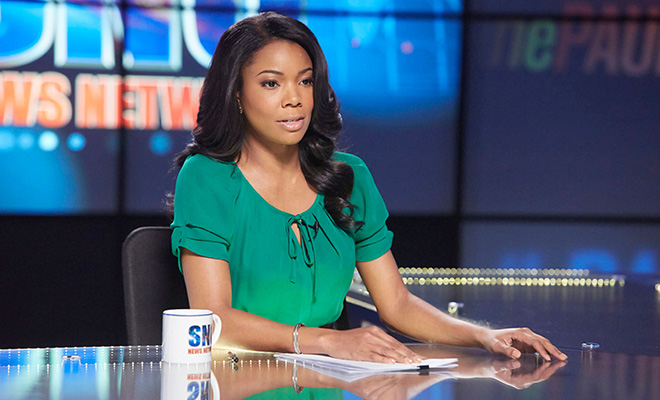 It's a good thing Gabrielle Union isn't holding on to bitterness over not landing the role of Olivia Pope in the breakout ABC hit Scandal.
After all, Kerry Washington was a much better choice for the political drama anyway. And to Gabby's credit, she does a fantastic job in her new BET series Being Mary Jane. D. Wade's special lady plays a successful TV anchor trying to juggle work and her personal relationships.
Speaking with the AP, Gabrielle says, "If you loved me for one thing and may not have liked me in something else, this role gives the audience a chance to see that I can do more than one thing." She added that the role is "sort of a secret dream come true" given her interest in the news.
On how she prepped for the role, Gabrielle spoke of Soledad O'Brien, explaining: "Her series took up a lot of space on my DVR. There's a news anchor's cadence that's different from an actor's cadence. If you do it wrong, you can come off cold or disconnected to the subject. I've been able to grow with the character in that manner."
As for not landing a part in the Shonda Rhimes-created series, Gabby says, "I didn't get 'Scandal,' but I got something better — which is my own show. It's all about building a legacy. This new opportunity is something I feel that can grow."
Oh okay, girl. For the record, I saw Being Mary Jane at a recent screening in NYC. It's quite good and worth your attention.
Be the first to receive breaking news alerts and more stories like this by subscribing to our mailing list.