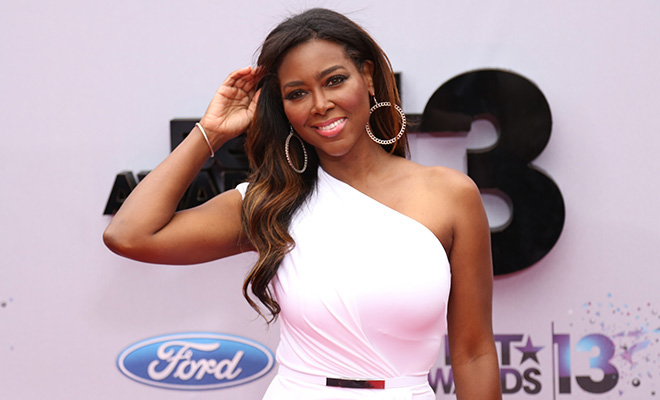 Kenya Moore has clearly pissed off her landlord even more. After trying to put her landlord on blast as some booga wolf jealous of her beauty and success, the landlord has shot back with new court documents detailing Kenya's many, many instances of money troubles.
If it's any consolation, Kenya, this seems to be a trend with all stars of The Real Housewives of Atlanta. But you know, you can either be a NeNe or Sheree now. Good luck.
In the meantime, Radar Online reports:
The landlord responded to Kenya's motion [to have the eviction delayed] with a request to the court to expedite a new hearing based on several allegations.

In court papers exclusively obtained by RadarOnline.com, the landlord claims that Kenya not only violated the terms of her lease — get this — on 15 occasions, but the former Miss USA also caused her "extreme emotional distress as the result of the delay [of the eviction] and the defendant's [Kenya] malicious and intentional attacks" on her character.

The landlord's motion claims that Kenya "made false statements about [her] in public" on two specific occasions.

"On or about June 7, 2013 and June 20, 2013, Defendant knowingly and maliciously made false statements about Plaintiff on the daytime TV talk show, Wendy Williams, in an effort to defame, intimidate and embarrass Plaintiff in the public," the landlord's motion reads.

"Defendant has utilized this [eviction] process as an attempt to maintain relevancy as a reality TV personality during the downturn of her career. Additionally, Defendant has attempted to prolong the eviction process in order to avoid public humiliation as an irresponsible tenant."

According to the documents, the landlord alleges that Kenya violated her lease by paying her rent late multiple times, that Kenya defaulted on more than several utility bills and even made alterations to the house without the permission of the landlord.

"Plaintiff has received numerous calls from bill collectors throughout the term of the Lease as a result of Defendant's delinquencies and defaults."

The landlord's papers add, "Plaintiff has suffered emotional [and financial] distress and has been unable to maintain normal sleeping habits."
Be the first to receive breaking news alerts and more stories like this by subscribing to our mailing list.