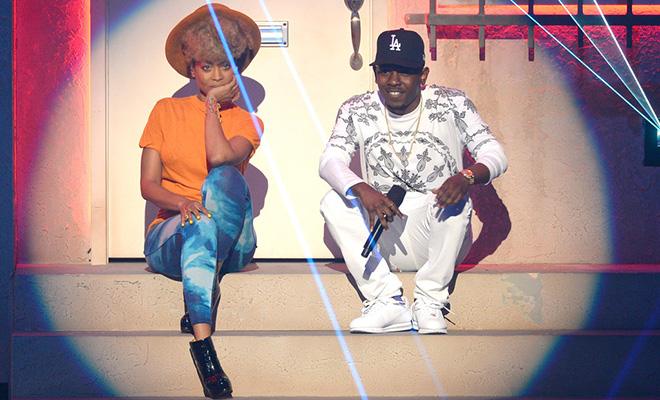 Kendrick Lamar, the hottest MC alive on the West Coast stormed the BET Awards with a performance that few will forge. Can you say Erykah Badu on "Bitch Don't Kill My Vibe?"
Awards shows are the perfect showcase for exclusive and surprise collaborations between artists. In part, it's a logistics thing. They happen to be in the same place at the same time. But Erykah's guest appearance on Kendrick's "Bitch Don't Kill My Vibe" seemed pre-destined. Let's face it, the spacey, atmospheric track had Erykah's name written all over it long before Lady Gaga gave it a go.
Eyrkah's heavenly and eccentric voice blessed the track flawlessly, although her wardrobe and styling were curious. She should've gone back and dressed like her "Bag Lady" days cause Erykah looked like she went rummaging through Lauryn Hill's closet.
WATCH KENDRICK LAMAR'S BET AWARDS PERFORMANCE BELOW:
Be the first to receive breaking news alerts and more stories like this by subscribing to our mailing list.