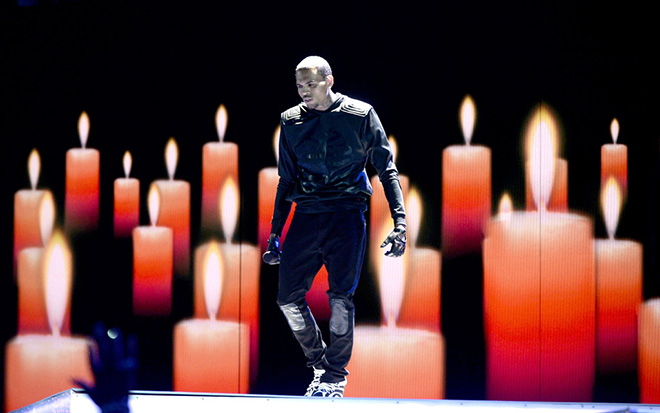 Chris Brown might have a ton of drama going on in his personal life, but if there's one thing that remains constant in his life it's his dedication to performing.
As the promo for his next album, X, continues to ramp up, Chris Brown pulled off a coup by securing the opening spot for the 2013 BET Awards. Opening with his lead single "Fine China," Breezy does his usual theezy with the over-the-top choreography and the lip synching.
While some people might complain about the pre-recorded vocals, trust me, he did y'all a favor. I don't know if it's the crack or his weed habit, but that boy's live vocals are shot.
After "Fine China," Chris transitioned to his Aaliyah-assisted single "Don't Think They Know." He threw images of the late R&B star up on the screen as he vibed during the track. That whole anti-gang violence message he's trying to shoehorn into the song still doesn't make an iota of sense, but the track is smooth. So I'm with it.
In a made-for-TV moment, Chris closed with a surprise appearance from Nicki Minaj for "Love More," a new track from his album. The guest appearance was nice, but they stuck Nicki in a damn prop so she wasn't able to unleash her kinetic energy.
WATCH CHRIS BROWN'S BET AWARDS PERFORMANCE BELOW:
Be the first to receive breaking news alerts and more stories like this by subscribing to our mailing list.