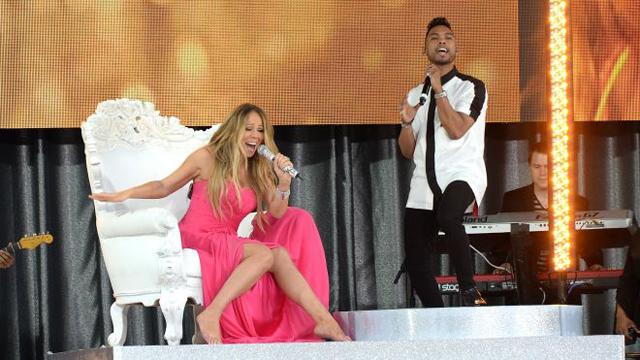 Whoever advised Mariah Carey to throw out this wretched Spanglish remix of her perfectly lovely song, "#Beautiful" needs to be slapped with a rock-filled burrito.
Since Mariah decided to push back her new album, The Art of Letting Go, indefinitely, the old lady decided to keep her fans entertained with a few worthless remixes of her Miguel-assisted single "#Beautiful."
Now don't get me wrong, "#Beautiful" is a dreamy, lovely song. But we don't need 5 different versions of it and we certainly don't need this sloppy, cut-and-paste attempt to cater to Latino fans that we've gotten with "#Hermosa." Especially since Mariah Carey's awkward Spanish makes Christina Aguilera's sound like Salma Hayek's in comparison.
Miguel is a kind soul to even bother re-recording his lines in Spanish, but at least you can tell that his Mexican roots paid off since his Spanish sounds believable.
Listen to Mariah's mixed frijoles remix of "#Beautiful" below
Be the first to receive breaking news alerts and more stories like this by subscribing to our mailing list.