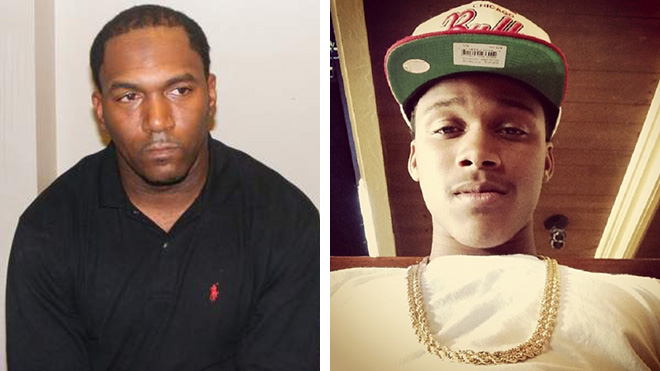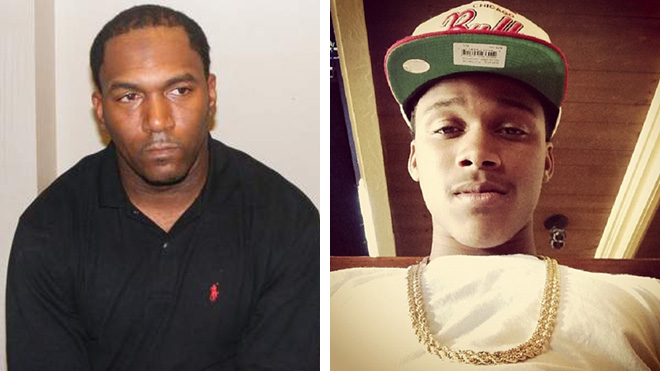 The man who is believed to have shot and killed Louisiana rapper Lil Snupe has reportedly surrendered to authorities and has been booked into the local jail.
According to ABC News, 36-year-old Tony Holden was booked into the Winnfield city jail Tuesday (Jun 25) on charges of first-degree murder, armed robbery and illegal possession of a firearm by a convicted felon.
A news release from the Winnfield Police Department stated that Holden has a criminal record and is a convicted felon, and that his bond had not been set.
Here is a photo of Holden being taken into custody by Winnfield Police Chief Johnny Ray Carpenter: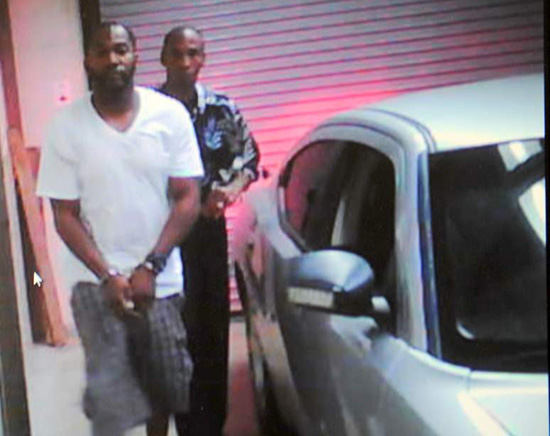 As we reported last week, Lil Snupe was fatally shot on June 20th, just one week after his 18th birthday.
According to the Associated Press, the shooting happened after an argument broke out while Snupe was playing a video game at a friend's apartment. Snupe, whose real name is Addarren Ross, was reportedly shot twice in the chest, and when EMS workers arrived, he was pronounced dead on the scene.
"We are told they were betting on a video game … Supposedly, he (Holden) robbed him (Ross) of money," police Lieutenant Charles Curry told The Shreveport Times, which explains the robbery charge.
Having recently signed a record deal with rapper Meek Mill's Dream Chasers label imprint, Lil Snupe was on his way to making a name for himself in the Hip Hop industry.
Snupe managed to get Meek Mill's attention one day, and handed over his mixtape to him. He was signed to Dream Chasers 20 minutes later. Describing the moment to MTV, Snupe said, "He was in a van, they was finna pull off. And I went and knocked on the van, on the window. They let the window down, grabbed the mixtape and it was like 10 minutes later, 20 minutes later they called me."
Meek Mill explained to MTV that the reason he signed the young rapper, who was just 17 years old at the time, last October was because he was impressed with his flow and wanted to help him improve his talent even further. "I seen potential in him," he said.
Before his untimely death, Lil Snupe released a couple of mixtapes, his biggest being "R.N.I.C.", which got over 50,000 downloads on DatPiff. But what Snupe was really known for was his ability to kick a dope freestyle any time, any place, against anyone.
Check out a few examples here:
And here are a few tracks from his mixtape:
In honor of Lil Snupe's life, Meek Mill released a heartfelt video tribute featuring footage of the slain 18-year-old performing for packed crowds, freestyling and joking with his friends. Watch that here: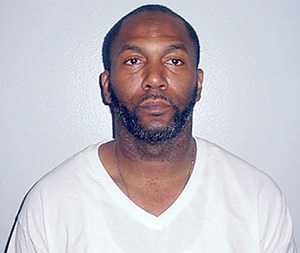 As for Lil Snupe's accused killer, Tony Holden, his criminal record includes previous arrests on several drug charges, mostly involving cocaine, as well as one count of forcible rape, another count of second-degree kidnapping, and two counts of aggravated battery with a dangerous weapon.
While Snupe's alleged murdered has been arrested, Lt. Curry said the investigation into his death continues.
His funeral is scheduled for Saturday morning at 11 a.m. in his hometown of Jonesboro, Louisiana at Jonesboro-Hodge High School, where Snupe attended as a student.
Be the first to receive breaking news alerts and more stories like this by subscribing to our mailing list.