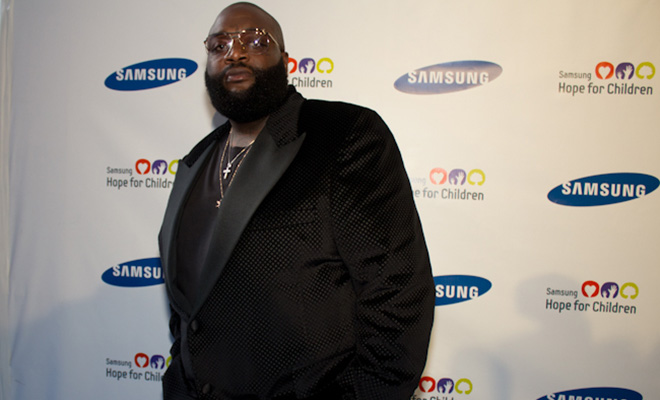 Rick Ross is in the studio working on his sixth studio album, Mastermind, and Gossip On This caught up with him at the Samsung Hope For Children Gala in New York City last Tuesday night (Jun 11) to get the scoop on it.
At the beginning of the year, Ross released a cinematic trailer to introduce his fans to 'Mastermind' and show his more soulful side. Playing in the background was Curtis Mayfield's Give Me Your Love (Love Song).
"I released the trailer for Mastermind and it was definitely soul music influenced and I most definitely went in that direction with the album, which I feel the culture really needed and its just such timeless, rich-sounding music," Ross told GOT.
The cinematic trailer was released "to set the tone and let my fans know what's going on, let them know I was working, let them know I was having fun," Ross explained.
Ross is known for his collaborations and this album will be no different. Although he is still working on the album, Ross promises fans will be pleased.
"There's most definitely some new, hit records on the way," Ross said. "I just released a record with myself, Lupe Fiasco and Wale titled Poor Decisions which is getting a great response. That will be on Self Made 3. I'm feeding my people a little at a time."
And of course we had to ask Rick Ross about his fashion; he was rocking a Tom Ford suit and some very fashionable glasses.
Image via Uproxx
Be the first to receive breaking news alerts and more stories like this by subscribing to our mailing list.