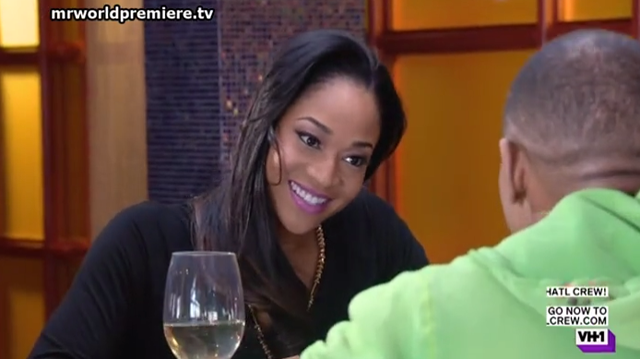 People love to lay much of the blame for the dysfunction in Mimi's life at Stevie J's feet, but what if the problem is really with Mimi?
This season, Mimi has gone from victim to villain. She started out barking and howling at Joseline for hanging around her daughter Eva and when she was done beefing with the Puerto Rican princess, she turned on her good friends Ariane and K. Michelle.
Why is this butch ballin' battleax so damn mad at everybody? She's supposedly moved on from Stevie and gotten herself a new man in Nikko. Shouldn't she be in Happily Ever After land?
She should, but she ain't. Mimi, it turns out, is a big fan of the miserable existence. She seeks it out.
So in a bid to totally FUBAR her relationship with Nikko, she starts to reconnect with Stevie J, her baby daddy.
Oh, Mimi tries to shove it under the guise of her needing to build a relationship with him for co-parenting, but what the hell does co-parenting have to do with inviting this man to her boyfriend's music video premiere party?
MESSY.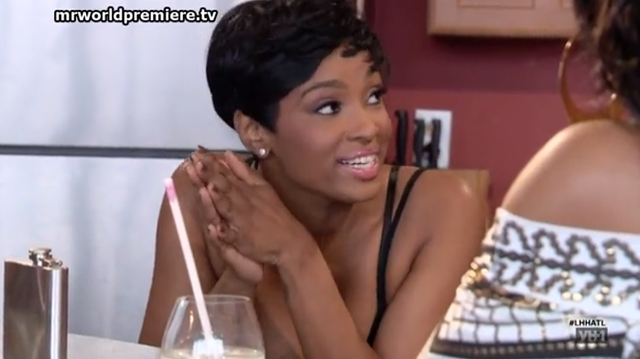 Mimi's friends Ariane and Erica Dixon call her dumb ass out on this tom foolery too and Mimi raises a glass to her chicken-headed bird brain.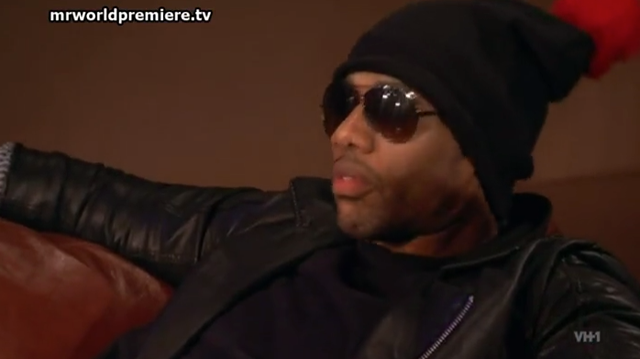 Things inevitably get really awkward at Nikko's little basement bash. For some reason, he's wearing a snow cap that he's customized with a craft store pom-pom on the top. He looks like Bobo the Fool but he's walking around like his name was Kanye West and like he and Johnny Crome are about to make Billboard their bitch.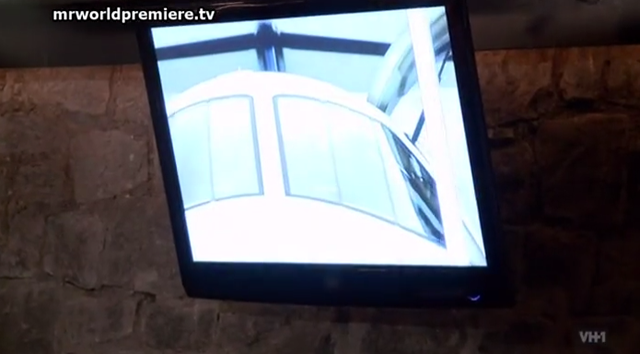 The small-ass little TVs used to premiere the video look pathetic, though that might've been a blessing in disguise since this "NY 2 LA" video is such a waste of life and breath.
Speaking of breath, when Stevie J walks in the room, he pretty much sucks ALL of the air out of the room as Nikko realizes that Stevie J has come to assert his alpha male dominance over his bitch, Mimi.
Stevie laughs at the so-bad-it's-not-even-sad music video Nikko cobbled together and then he mocks the fake Rolex Nikko gave Mimi, saying that it ticks.
As a final deathblow to Nikko's manhood and entire existence, Stevie J hands Mimi the keys to a brand-new white BMW and shits on Nikko publicly.
How the hell do you let your woman's babdy daddy roll up in YOUR party and one-up you in front everybody while you set looking a fool with your pants on the ground?
Mimi, being the bird that she is, readily accepts Stevie's gift too. Oh she asks if there any strings attached, but she already knows damn there will be.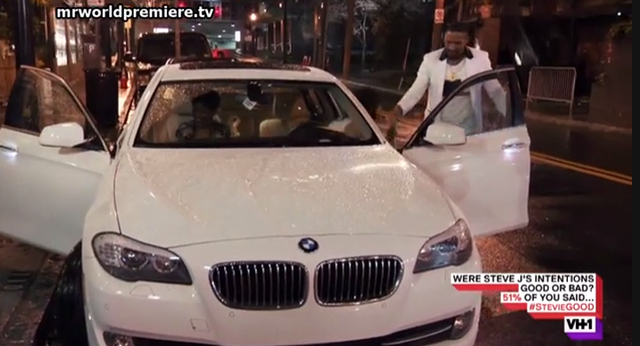 Y'all, call the pastor and put on all-black. Cause there's about to be a funeral for the so-called relationship of Mimi and Nikko very soon.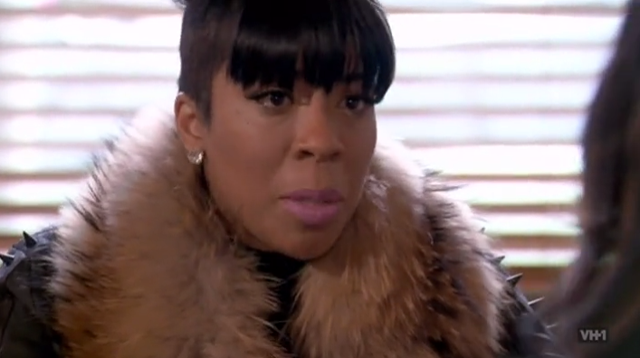 K. Michelle and Karlie Redd Make Up to Break Up
After a heart to heart with her record label A&R and public relations team, K. Michelle decides to go on a mending fences campaign. Since she damn sure still can't stand the sight of Rasheeda's sideburns, she starts with Karlie Redd.
The two ladies had beef in the previous season or relatively trivial things but things did get heated when Karlie decided to a shake a table on K. Michelle's ass and things went haywire.
Karlie, if you'll recall, has been on an anti-K. Michelle rant this whole season, even going as far as recording a diss record. But being the fake, kiss-ass that she is, she eagerly agrees to meet up with K and patch things up.
The two have a relatively productive lunch and Karlie confesses to K that she did record a diss track against her. Karlie claims she wanted to tell K before she heard it "from the street." As if anybody with a functioning sense of hearing would purposefully play any of her wack-ass music. She cray?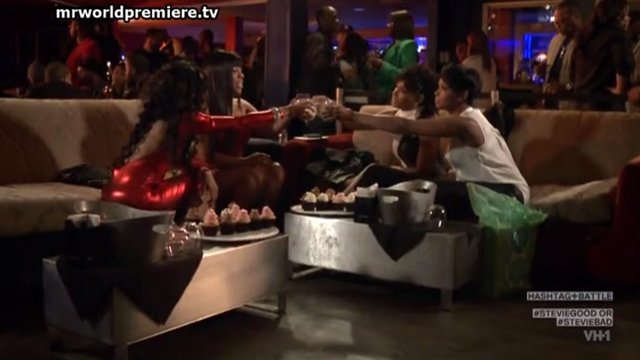 Anyway, with things back on track between Karlie and K. Michelle, we later catch up with K. and her girls at the club celebrating her birthday. Karlie is in tow and all is well. Then Benzino shows up.
Apparently, Benzino must be one of the girls because he's the only LHHA dude who shows up and he spends the rest of the night awkwardly hovering around the ladies. Stalker much?
To up the creep just a little bit more, Benzino gives K. Michelle an expensive diamond pendant necklace for her birthday like he's her boo. Did these two even talk at all last season? This is random as hell. K. Michelle herself can hardly believe it as the first words out of her mouth when she opens the box is, "Is this real?"
As awkward as that exchange is, it doesn't compare to Karlie Redd's gift opening with K. Michelle. The first gift is a pack of weave, which will no doubt be very useful for K and her lace front collection. But things get funky when K. Michelle pulls out a burned CD. You might think it's a custom mixtape that Karlie put together for her gal pal, but it's actually her dumbass diss record.
Yes, this dumb dumb gifted her diss track to K. Michelle right after she kissed and made up with her. Who does that?
Before Karlie can inform K. Michelle of what's on the disc, Ariane quickly runs it to the DJ Booth and before you know it, Karlie's venom against K is spewing from the speakers.
When K catches a line about challenging the validity of her domestic abuse story with Memphitz, shit gets really real fast. Y'all know how K reacted to Rasheeda so K's voice starts getting really loud and in a split second, drinks start flying and bitches start getting shoved.
It's just another day in the life, y'all.
The good news is, K. Michelle later runs out to Karlie and tells her she's not mad about what went down, but I don't really believe her. Karlie accepts the olive branch though because she'd rather be fake with K. Michelle than risk getting punched in the face. Smart girl.
Kirk Gets His Ass Handed to Him by His Mother-in-Law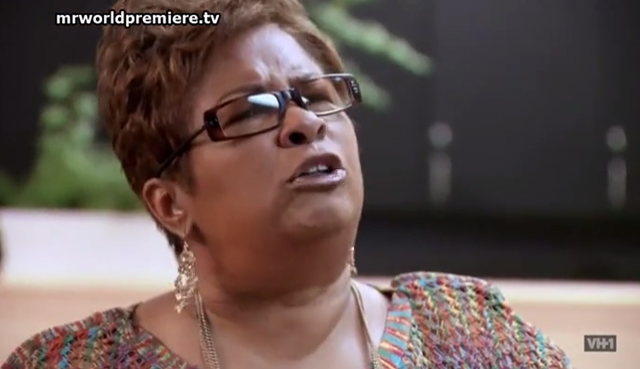 Hell hath no fury like a mother-in-law scorned. Kirk Frost learned this salient truth the hard way when Rasheeda's mother, Shirlene, unleashed the dragon on his dumbass after she heard the lowdown on the way he'd been treating her daughter Rasheeda.
Supposedly, Shirlene and Kirk have been close in the past, so when Kirk pulls up to Shirlene's shop for a one-on-one conversation, he probably wasn't expecting to get verbally assaulted and physically threatened by a 50-plus-year-old woman.
But there Mama Shirlene was right up in his face telling him he was a bitch and a coward for not supporting Rasheeda in her pregnancy and for asking for a damn paternity. Truth.
But Kirk, whose brain seems to have been taken over by aliens from Stupidanus, acts deaf and dumb to her complaints and tries to justify his behavior by saying his mother-in-law doesn't know who Rasheeda's been with. Sir, really?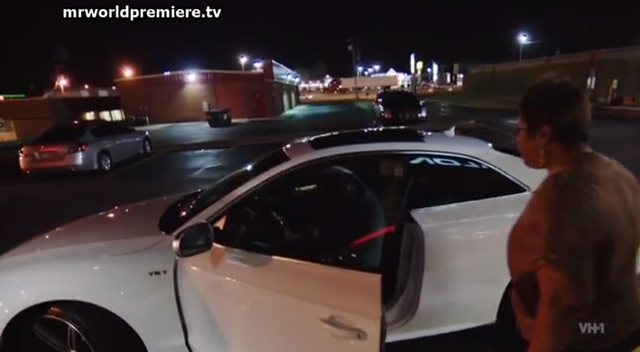 Mama Shirlene doesn't play that and when she starts to get rowdy with Kirk, he smartly rolls out. But Shirlene lets him have it in the parking lot too and threatens to kick his car.
Forget Momma Dee, we need way more of Mama Shirlene on LHHA.
Be the first to receive breaking news alerts and more stories like this by subscribing to our mailing list.