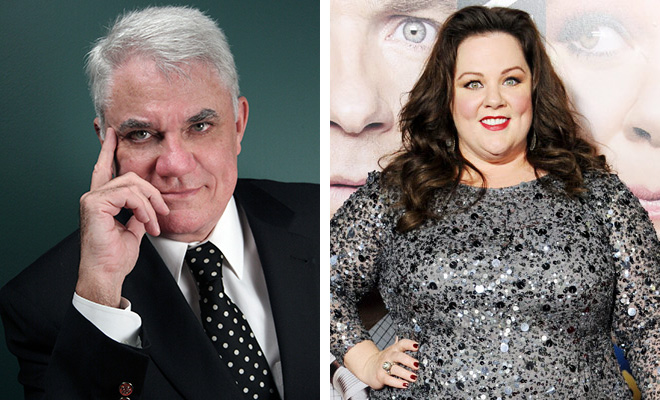 As Kanye West continues to collect all of the top awards for Douche Bag of the Year, many of us have forgotten to acknowledge the primo douche of 2013: Rex Reed.
In case you missed it, a few months ago, The NY Observer critic wrote a review of "Identity Thief," in which he took the time to call Melissa McCarthy mean things like "tractor sized" and a "female hippo." And as if that wasn't enough, he also added that the 42-year-old is "a gimmick comedian who has devoted her short career to being obese and obnoxious with equal success."
Right, because McCarthy hasn't been working her way up in Hollywood since her recurring role on "Gilmore Girls," nor did she earn an Emmy for her role on the CBS series "Mike & Molly."
She also didn't train at The Groundlings where the likes of Will Ferrell, Kristen Wiig, Jimmy Fallon and countless others first honed their craft.
The actress certainly hasn't hosted side-splitting episodes of "Saturday Night Live" or earned an Oscar nomination for her scene-stealing turn in "Bridesmaids." Nope … she's just a hack.
The review, which was published in February, caused quite a stir.
"Bridesmaids" director Paul Feig reportedly tweeted, "For his catty and school bully name-calling of the supremely talented Melissa McCarthy, I cordially invite Mr. Rex Reed to go fuck himself."
"Modern Family's" Eric Stonestreet also chimed in. "Turns out, Rex Reed didn't die sad and alone 10 years ago," he tweeted. "Nope. He's alive and starving for attention, so lets give him some."
McCarthy chose not to comment on the incident … until now! In a new interview with the New York Times, the star reveals that she was initially shocked by Reed's comments, saying she thought "Really? Why would someone O.K. that?"
She also added a pretty classy statement. "I felt really bad for someone who is swimming in so much hate," she said. "I just thought, that's someone who's in a really bad spot, and I am in such a happy spot. I laugh my head off every day with my husband and my kids who are mooning me and singing me songs."
McCarthy taking the high rode isn't the only thing that should be a slap in Reed's face. "Identity Thief" just happened to be a hit at the box office, taking in an impressive $135 million.
Not only that, but McCarthy is also one of the most in-demand actresses in Hollywood. She's set to appear in "The Heat," alongside Sandra Bullock and is currently working on "Tammy,"  her directorial debut. She will also star in the forthcoming "St. Vincent de Van Nuys" opposite Bill Murray and Naomi Watts.
And she managed to pull this off in an industry where young, hungry women are believed to be the most bankable.
Looks like this "hippo" knows what the f**k she's doing.
Be the first to receive breaking news alerts and more stories like this by subscribing to our mailing list.