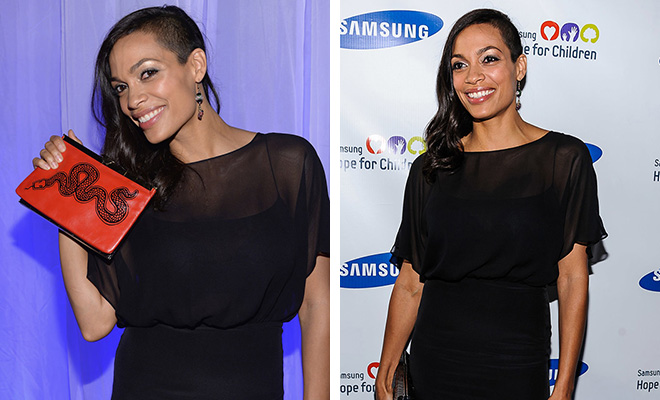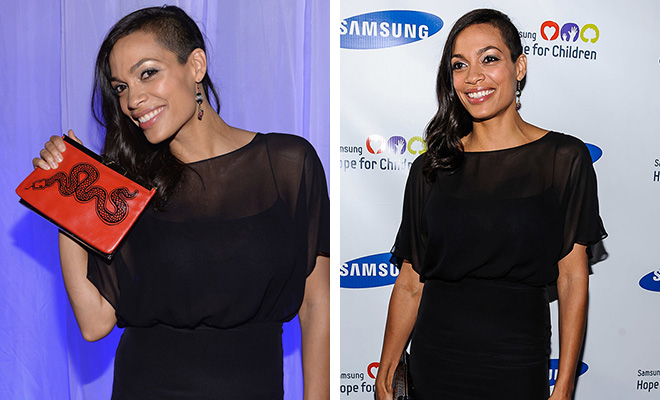 Rosario Dawson hit the red carpet for the Samsung Hope For Children Gala in New York City Tuesday (Jun 11) sporting a new 'do.
At the charity event, which reportedly raised $1.5 million to benefit children's health, Dawson rocked a half-shaved head and it's all for her new movie, Sin City: A Dame To Kill For. She explained to me on the red carpet:
"I wanted to do it for Sin City 2. It's been kind of amazing, I've had it since October. I've had to wear a wig, weird pieces to kind of cover it for two films that it wasn't appropriate to have this look with, but I've just been rocking it for a few months now, and I really enjoy it. It was starting to grow out and I just figured its summer, I probably won't do the hairstyle again, so let me just cut it one more time and enjoy it before I grow it out and do something different."
As a woman that is somewhat neurotic about her hair, I asked Dawson if she was nervous to cut her hair, as I know I wouldn't have the courage to rock such a daring look.
"No I've been dying for an excuse to do it, so it was really fun for me. When we were doing Sin City I was like 'sweet,'" Dawson said enthusiastically.
It's been eight years since the first Sin City hit theaters and instantly turned into a classic and now the gang is back for another time around, which is sure to be another hit.
"It's a big deal, we finished it already, it's been a few months so I'm really curious to see," she said. "It's been eight years since we did the original. I look back at pictures and all of us, Bruce Willis, all of us, I mean you can see it, it's a totally different world. It's interesting, it was really fun being back on set and getting back into Gail again."
And for fans wondering what lies in store for them in the second installment of Sin City, Dawson has one word for them.
"Awesomeness," she said. "It's like Robert Rodriguez and Frank Miller, come on."
As for Dawson's next movie, she will be starring alongside Chris Rock in a film that he has written and will direct called Finally Famous, in which will be playing a journalist.
"We're shooting here in New York, so I'll be here for the next two-and-a-half moths, which is really exciting," Dawson said. "I don't know when's the last time I spent a summer in New York, it's cool."
Take a look at some photos of Rosario Dawson at the event below:
Be the first to receive breaking news alerts and more stories like this by subscribing to our mailing list.