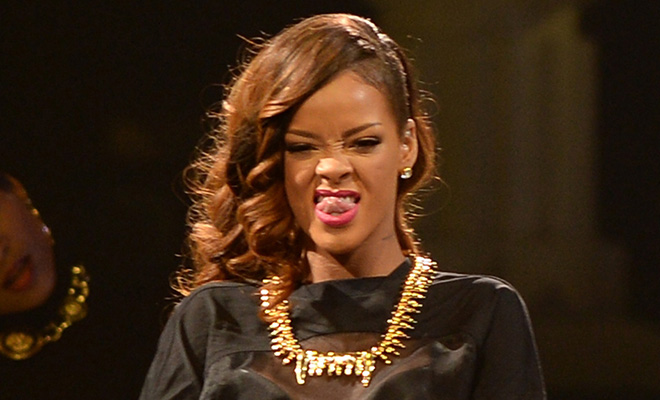 As much as I love me some Rihanna, I wouldn't pay money to see her perform in concert. For one, she dances like the stripper on the last 15 minutes of her shift who can't wait to hit the drive-thru at Jack in the Box and go to bed.
And two, well, isn't one bad enough? Wait, wait. Two is now she has the nerve to either cancel on you or show up dumb late. That's so disrespectful. But you know, she'll get away with it because she's Rihanna and we all found love in a hopeless pop star.
Still, I bet some folks in Belgium are mighty pissed at her for partying the night before a performance and then showing up hours late for the show they spent their hard earned money on. And apparently this is something that's happened before.
Poor dat indeed.
Here's the story by way of X-17:
Rihanna was over two hours late to her concert in Wales last night after allegedly partying until 4:30 a.m. that morning. Talk about deja vu. The "Diamonds" singer was also late to two concerts in Antwerp, Belgium last week.

After performing in Paris the previous night, the songstress reportedly went to the VIP Room nightclub then dined at the on-site Gioia Italian restaurant. She later danced the night away and got a standing ovation from club-goers partying below her private balcony.

Her concert at the Millennium Stadium in Cardiff, Wales started almost exactly 12 hours later at 8 p.m. She took the stage after 10 p.m. and fans took to Twitter to complain about her performance, accusing her of lip-synching.
Be the first to receive breaking news alerts and more stories like this by subscribing to our mailing list.