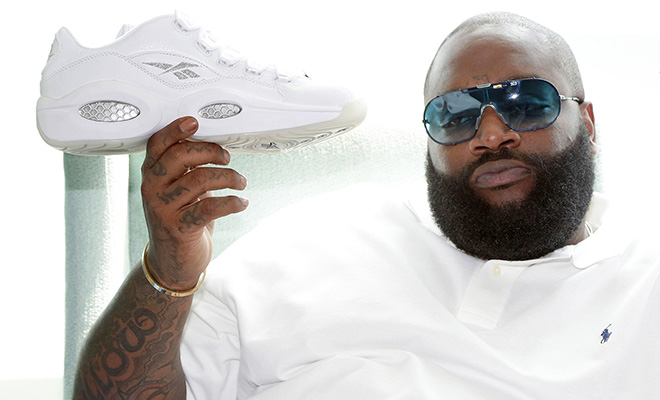 After losing a lucrative endorsement deal with Reebok over his failure to properly apologize for his controversial line about date rape in a recent song, Rick Ross is trying to accentuate the positive.
Speaking with MTV News, the former corrections officer and constant consumer of lemon pepper wings now speaks of it in terms of a "learning situation."
Ross says, "It most definitely was a learning situation and just for the little homeys, just something for them to take away. That's what's important to me, what they take away from it."
So instead humbly pointing out that he, too, learned a few things from his public relations fumble, Ross flips into, "Well, at least the younger dudes can learn from this." Man, is he ever committed to his character.
He went on, "I'm in a position where if I never sold another shoe, Rozay good. So it's really about what the little homeys who coming next gonna take away from it."
At least Rick Ross was sure to speak of Reebok in the kindest of terms: "At the end of the day, once the dust settles we'll just readdress the situation — once the time is right. As far as myself and Reebok, we got a healthy situation."
In other words, he's hoping and praying Reebok will give him some more money to hawk shoes when people move on to their next willful target. Insert grunt here.
Be the first to receive breaking news alerts and more stories like this by subscribing to our mailing list.