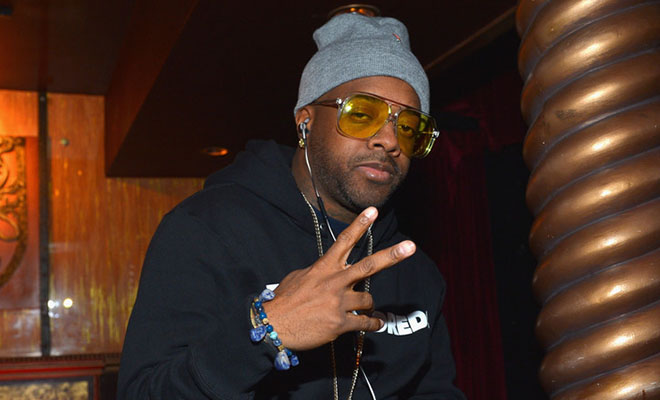 In more "they're saying you're broke" news, Jermaine Dupri is firing back at allegations that he's in danger of losing his So So Def catalog for failing to repay a loan.
The Atlanta-Journal Constitution reported on his alleged money troubles:
Atlanta music mogul Jermaine Dupri and his So So Def Productions have been sued for $1.9 million, accused by SunTrust Banks of defaulting on a loan.

In SunTrust's lawsuit, the bank alleges that Dupri is in default and still owes money toward a $4.9 million loan from 2010. The loan is backed by copyrighted music owned by Dupri, So So Def and other businesses, as well as a building on Briarwood Court in DeKalb County that houses two recording studios.

Neither SunTrust nor Dupri, listed as Jermaine Dupri Mauldin in the court documents, immediately returned messages seeking comment Thursday. The debt originated in 2009 as part of an earlier loan that Dupri took on to pay off income tax and other liabilities, according to a separate court document.

The loan was adjusted in 2010 and Dupri, So So Def and another company controlled by Dupri, Southside LLC, were listed as guarantors. Southside was not named in the suit. At one point, SunTrust agreed to allow Dupri to sell a catalog of songs as part of a plan to repay the debt. The documents do not specify which songs, but that deal apparently fell apart.
Jermaine Dupri is now addressing the story in all caps, which means he's either pissed, or forgot where that thing-a-ma-jig on the computer machine went.
In any event, he writes:
SO I WAKE UP THIS AFTERNOON WITH TWEETS FROM PEOPLE ASKING ME IF IM OK,JD WHATS GOING ECT….I HAVE NO IDEA WHY IM BEING ASKED THESE QUESTIONS, BUT BEING THE HEAVY SOCIAL MEDIA PERSON THAT I AM, I KNEW SOMETHING CRAZY HAD TO BE ON THE INTERNET,SURE ENOUGH I LOOK AND @VLADTV IS POSTING THIS LIKE CRAZY,IF YOU'RE A FOLLOWER OF WHAT I DO HERE AT GLOBAL14, YOU KNOW THAT GOSSIP,RUMORS AND ALL THAT BULL SHIT WE DONT DO,BUT!!!! ONE OF THE REASONS I DID CREATE GLOBAL14 IS TO MAKE SURE ,THAT WHEN SOMETHING HAPPENS WITH ME, THAT IS WORTH KNOWING, THIS IS WHERE YOU GET THE REAL .WITH THAT BEING SAID SUNTRUST BANK IS FULL OF SHIT !!! AND THIS STORY IS A COMPLETE LIE,ON THE COCKYSIDE 1.9 MILLION FOR ALL MY MUSIC, GTFOH!!!! LOL,I HATE THAT I HAVE TO ADDRESS THIS, BUT I WAS ALWAYS TOLD "ONE CAN ROB YOU OF ALL YOUR MONEY AND THEY GET AWAY WITH NOTHING BUT WHEN THEY ROB YOU OF YOUR NAME THEY HAVE TAKEN IT ALL" F**K THAT !!!!
I'm not JD's accountant, but I would think that his catalog would be valued far more than that amount of money.
Be the first to receive breaking news alerts and more stories like this by subscribing to our mailing list.