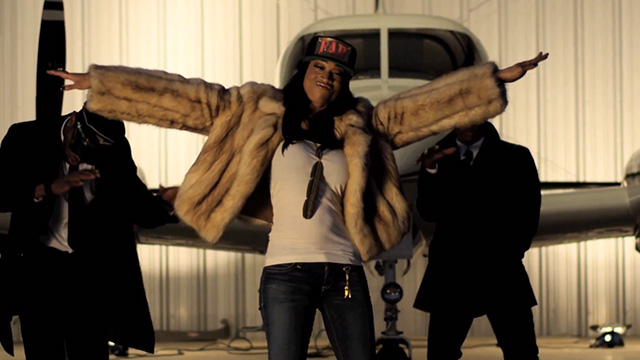 On this week's episode of "Love & Hip Hop Atlanta," we all watched as Mimi Faust made a damn fool of herself her first music video debut alongside her boyfriend Nikko and his rapper friend Johnny Crome.
Though Mimi and Nikko are no longer together (SPOILER ALERT!) following the big blowout fight when K. Michelle accused Johnny and Nikko of being "gay" together — "You have a roommate in Atlanta. Rent is not that high boo boo, in Atlanta, this is not New York!" — Nikko still released the hot mess of a video via his website, but not before clearing up a few things:
One:
"First and foremost I want to say that I consider myself an artist. Im not just another rapper or MC. I'm a true artist who loves and respects the artform. My musical tastes range from Biggie to The Beatles. My goal is to work as hard as possible and leave a lasting mark on the spectrum of music and popular culture. However, I know that I will be linked to this video, era, and Love And Hip Hop Atlanta for better or worse. This is the first video that will actually expose me to a broader demographic. And it just so happens to appear on a key episode of Love And Hip Hop Atlanta season 2."
Two:
"I want to focus solely on the music and the artform but lets briefly address the elephant in the room. K. Michelle accused me of being gay at the filming of this video and thats simply not true. I want to let it be known that I am not a hater or gay basher, and I will never spread that hate or negativity. I have some gay friends and a gay relative. And I will always respect and have love for them."
And last, but not least:
"Now about this video, first I want to thank Mimi Faust for being in our video. Her presence is what brought the VH1 crew out and gave it a platform. Her kindness and generosity is overwhelming. She gets alot of flack for various reasons but after getting to know her I can testify that she is a very good woman and she deserves nothing but the best. Had a great time filming with her and I just want to say Thank You.

"As far as this video is concerned it kinda speaks for itself. "NY 2 LA" is a fun club/party record and thats what we wanted to display in the video. It was fun and we had a great time filming it. Payne Lindsey and his crew SIGNAL POINT STUDIOS are amazing! Before its all said and done they will be legends in their respective fields. Lets forget about the drama and experience this dope lil video. This is just the beginning, sky is the limit."
WATCH THE VIDEO HERE (AND TRY NOT TO LAUGH TOO MUCH):
Be the first to receive breaking news alerts and more stories like this by subscribing to our mailing list.