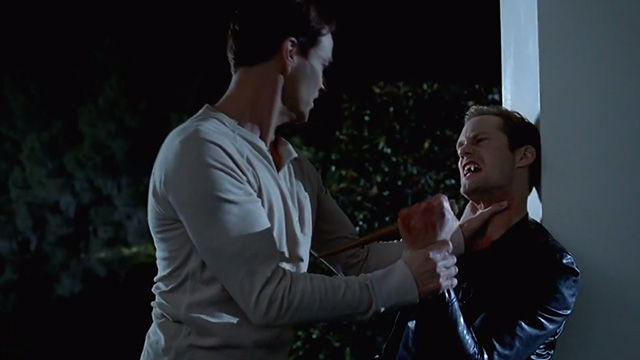 We're just weeks away from the June premiere of "True Blood" Season 6, and so far, we know that there's a huge war waging between vampires and humans that has reached a serious boiling point. And making matters even worse, "Billith" is on the rise, causing even more trouble for Bon Temps.
HBO has released another trailer, giving an extended look at the chaos going on in the small Louisiana town. Lots of blood is spilled, and in one scene, Eric is holding a stake aiming it right at Bill's chest as Bill holds him by the throat.
Everyone's favorite blood bath returns to TV on June 16th at 9 p.m. on HBO, and the first episode will reportedly be directed by Stephen Moyer, who stars as Bill Compton on the hit series. Expect a few new faces as well, including actress Jurnee Smollett.
Check out the first "True Blood" Season 6 trailer here:
[H/T: Ace Showbiz]
Be the first to receive breaking news alerts and more stories like this by subscribing to our mailing list.