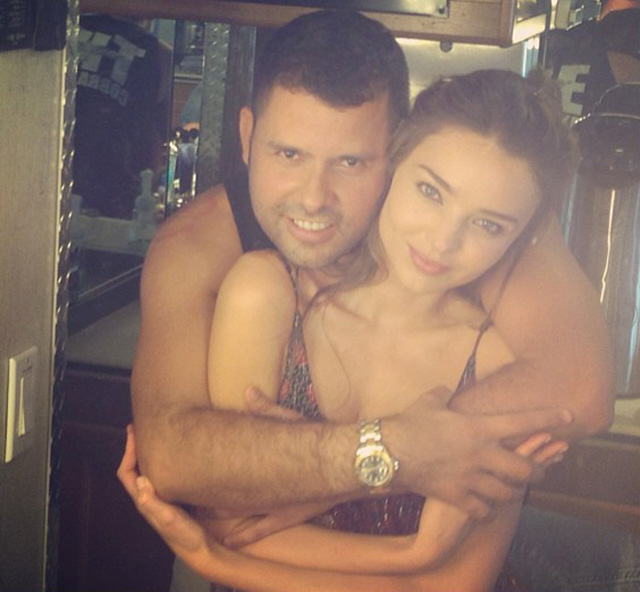 Following the extensive coverage of her "double nip slip," Miranda Kerr is getting attention for something other than her breasts.
Last week, the Australian model posted the above image of herself being embraced from behind by fashion photographer Mariano Vivanco, and FOX news is reporting that the pic is causing a stir among fans who have deemed it disrespectful to her husband, actor Orlando Bloom.
Overall though, there isn't really much to the rumor. I mean, they wrote a story based on the crap Internet commenters are saying. The outlet even went as far as labeling it a "controversy."
Last week, Miranda Kerr posted a behind-the-scenes picture of herself, via Instagram, on a photo shoot with New York-based fashion photographer Mariano Vivanco, his muscular arms tightly wrapped around the cleavage-bearing supermodel.

She then tweeted the picture. But with rampant rumors of her troubled marriage to Orlando Bloom already a tabloid hot topic, the seemingly innocent snap didn't sit well with her fans.

"I don't think she respects her husband at all," commented one, as another questioned: "You're husband [wasn't] jealous when he saw this pic?"

Others did, however, leap to her defense. "Chill out guys, it's just a hug," one responded, with another weighing in: "maybe she doesn't like to post photos of her with Orlando as she likes to keep that part of her life private."

A rep for Kerr declined to comment on the controversy. However, the former Victoria's Secret Angel is far from being the first high-profile person to drum up debate via Instagram.
So are Miranda Kerr and Mariano Vivanco having a steaming hot affair?
Well, don't all women who commit adultery post picture proof of themselves with their side piece online for millions to see?
Surely, the photo wasn't posted because the Peruvian-born Vivanco is one of the most respected photographers in the business and has shot widely recognized portraits of stars like Lady Gaga, Naomi Campbell and Emma Watson.
No, it must be a torrid affair because random internet users say so.
Be the first to receive breaking news alerts and more stories like this by subscribing to our mailing list.