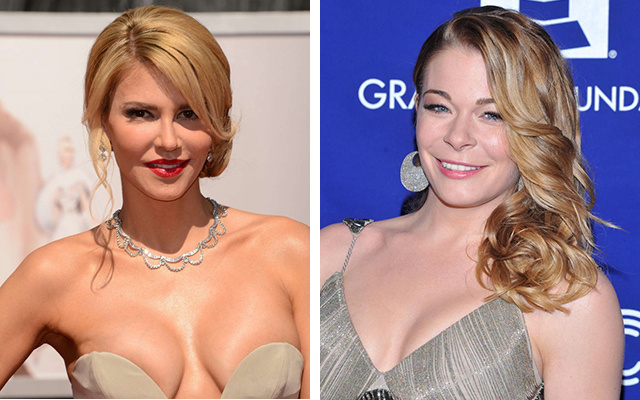 The highly publicized feud between LeAnn Rimes and Brandi Glanville has picked up some steam over the last few days.
On Monday, the "Real Housewives" star apparently had trouble reaching Rimes, her ex-husband Eddie Cibrian and her two sons, who were all spending time together. So she did what any concerned parent would do, she posted a public tweet about the situation for all to see.
"Ive been trying to get a hold of my kids 4 over an hour no response to my calls, emails or messages. Maybe twitter will work," Glanville tweeted.
Oddly enough, she forgot to use the hashtag #stoopinglow.
As expected, the frantic post prompted the singer to respond with her own tweet: "Funny, she just got off the phone w/ them. Sorry, we were doing baths, homework & dinner. All good!"
Moments later, Rimes tweeted, "the phone rang, I picked it up. Never saw this til after. All you gotta do is call."
But she wasn't done!
She also added, "no drama when the truth is told. Cool! Done! Nothing to it!"
This is just one of many feuds that the two have engaged in via social media. Just this past Sunday, it was reported that Rimes had flowers sent to Glanville in honor of Mother's Day. The reality star took to Twitter to let the world know that she thanked Rimes for them.
"I thanked @leannrimes on twitter4 my flowers.Our relationship is that we still dont even say hi at baseball.I dont have her number-thats it."
This was allegedly news to Rimes, who responded by tweeting, "[T]his was actually the first acknowledgement of my gesture I was made aware of. I didn't see anything else sent to me. It wasn't for the 'thank you.' It was to just simply say Happy Mother's Day."
She also retweeted a message that was probably meant to be a dig at Glanville:
"Stop giving the people who have nothing positive to say about you an ear. Ignore them and keep doing your thing."
It's a shame that these two feel the need to rip each other apart publicly. Not only does it reenforce the idea that women are catty and competitive but Eddie Cibrian, the man at the center of it all, has been seemingly absent from their feud.
Shouldn't he have to face some of the hostility and anger that these women harbor towards one another?
[H/T: Celebitchy]
Be the first to receive breaking news alerts and more stories like this by subscribing to our mailing list.