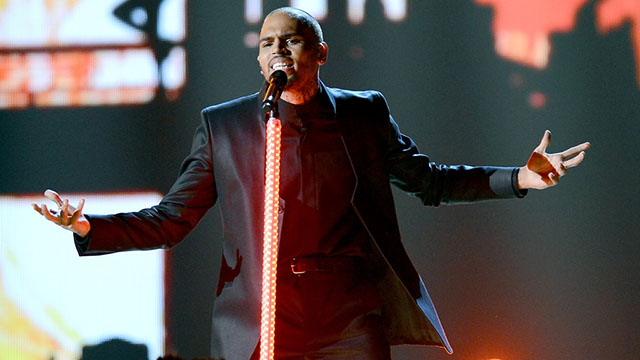 Bless Christopher Maurice Brown's heart for attempting to sing "Fine China" live, but he sounds like he's gargling hot and sour soup throughout half the set. Chris Brown himself admitted that his vocals were off a bit. Afterward, he tweeted:
Lil hoarse for the performance but it happens. Good shit otherwise.

— Chris Brown(@chrisbrown) May 20, 2013
Well, that's one way of putting it.
Listen, y'all, as far as I'm concerned, in the future Chris Brown just needs to give us a pre-recorded vocal ala Janet Jackson and then proceed to dance his ass off.
Though he may display solid vocal ability on most of his studio recordings, he doesn't duplicate those vocals very well in a live setting. Don't stab me Team Breezy, but pretty boy rock's falsetto isn't strong enough to carry him to the promised land — especially not when he's doing that hyperactive choreography.
Then again, maybe part of the hoarseness can be attributed to the other herbal essence. I'll never understand singers who love to smoke weed (and/or cigarettes too). What part of the game is that?
Whatever the cause of Chris' hoarseness was, it makes me long for the days when dance artists could freely mime on stage without fear of being called out for lip syncing. Michael Jackson was good for pop locking at an awards show without even pretending to be singing live, and we didn't give a damn because MJ was shamoaning and shimmying like his life depending on it.
We need to give Chris Brown that same courtesy. Hell, give yourself that same courtesy, Chris, 'cause you shoving the microphone away from your mouth every other minute due to you being out of breath isn't it.
All that said, at least Chris Brown didn't nearly injure anyone near the stage like The Superfly Jimmy Snuka of Soul Miguel did.
Be the first to receive breaking news alerts and more stories like this by subscribing to our mailing list.