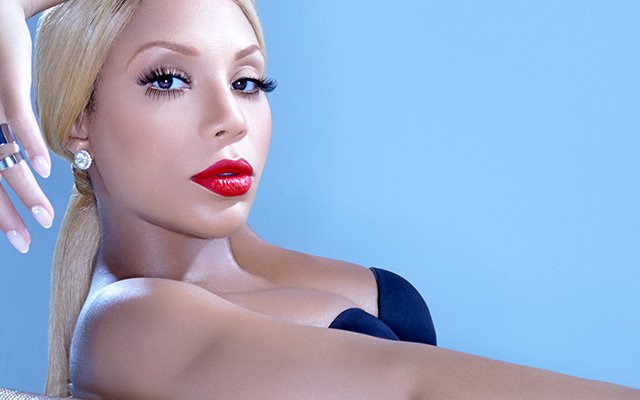 In an interview with EBONY.com, Tamar Braxton opens up about the physical abuse she endured in past relationships. Plus, she discusses what she made of her brother-in-law accusing her husband, Vincent Herbert, of abusing her. The brother-in-law in question is Trina Braxton's husband, Gabe. Yes, the one who used to like to play show and tell with his penis with strangers on the Internet.

On skin bleaching accusations and her struggle with Vitiligo:
"Anybody with skin issues knows that that's a very sensitive subject. And that's why I've never shared that I have Vitiligo, because I do. I've always had it, since I was a young girl. It's not as bad as others because everybody has it differently, but I've certainly had mine diagnosed. That's why I tan. People say, 'You bleach your skin!' But I tan just so I can have a better tone on my skin, boo!

"It's gotten worse since I've gotten pregnant. If you shake my hand now, to me it's more noticeable. But when you get diagnosed with a skin disorder, it's hard. It does weigh on your self-esteem. It really does. But I'm done defending that. I'm not bleaching my skin and if I was bleaching my skin and I felt like saying so, I would, but for the record, I am not."
On revealing her history with domestic violence on her reality show:
"I almost had to tell my story to each individual and then I decided that's not what I'm going to do. I can't make anybody believe, I can't change anybody's mind about anything. (The abuse), it happened. I'm not all the way comfortable with sharing a lot of what happened to me (yet), but what I said was true. When I'm ready to talk about my abusive past I will, I'm sorry that I'm not. But if it wasn't for (God), I wouldn't be here."
On charges that Vince has gone oops, upside her head:
"My husband definitely doesn't abuse me," she says, explaining that Gabe was only trying to take the heat off of himself by spewing lies about the family. "But, that's been addressed (with Gabe). We don't really have a close relationship anymore …but I'm respectful. I say 'hi' and 'bye,' and that's where we leave it."
On what she's learned from past volatile relationships:
"I haven't always been vocal about my feelings, especially in a relationship. Now, I make sure that I'm very vocal about my feelings, everybody knows how I feel.  Sometimes it's over the top and most of the time it's 'Team Too-Much.' But I have to do a lot. (I was) a shy person who had self-esteem issues trying to figure it out — now, I've gotten over my hangovers.

"I'm comfortable and confident, it took a long time to get there. Maybe like a year or so before Braxton Family Values, I wasn't that person. I was faking it til I make it, pretty much. I didn't feel like I was beautiful. I didn't feel like I deserved things. I didn't feel like I could stand in a room and speak or even sing and have people who wanted to listen."
So that explains a lot, particularly why neither Tamar or Toni see it for Gabe. I distinctly remember Toni saying a few episodes ago on Braxton Family Values, "I want nothing to do with Gabe." Can't say that I blame her if he's lying about her former manager, brother-in-law and baby sister. I'm surprised Mama Braxton hasn't gone upside Gabe's head with her pocketbook for telling that fib.
You can check out the rest of Tamar's interview at EBONY.com.
Be the first to receive breaking news alerts and more stories like this by subscribing to our mailing list.