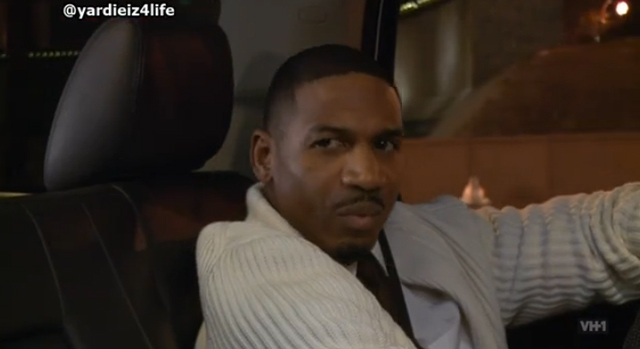 Stevie J and Joseline Hernandez are like the faucet of "Love & Hip Hop Atlanta". One minute they're hot, the next minute they're cold. One minute they're on, the other minute they're off.
While the past few episodes have seen Joseline play a tough girl, she was all emotional and vulnerable in this particular episode as she practically went back to Stevie J begging for the D back in her life.
At first, Joseline was running her mouth to her booking agent, Dawn, who's been helping Joseline stack paper for club appearances while Stevie waffles on putting out Joseline's long overdue single.
Joseline told Dawn that she was tired of Stevie "stressing" her out and she longed to sever her relationship ties with the producer and keep it strictly business.
But when Stevie called Joseline later on to meet up, Joseline looked like a kicked dog as she slid into the seat next to him.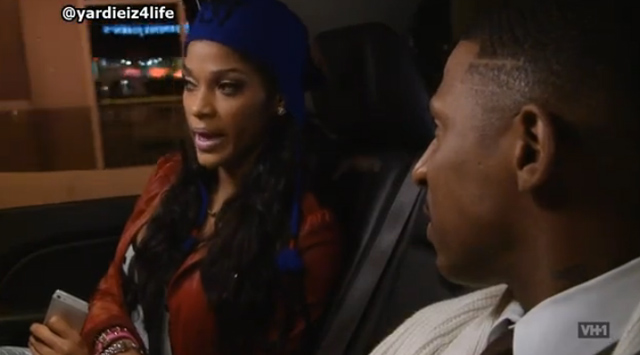 Stevie even pulled out that contract that she was begging him for the last two episodes and Joseline didn't even flinch. She was more interested in getting Stevie to commit to their relationship.
WHAT? Now the sideline hoe wants to be upgraded to wifey? This shit is madness.
But before you can say, "Que estás diciendo, puta?" Joseline and Stevie J have made their way to a bed to, in the words of Brandy, "put it down."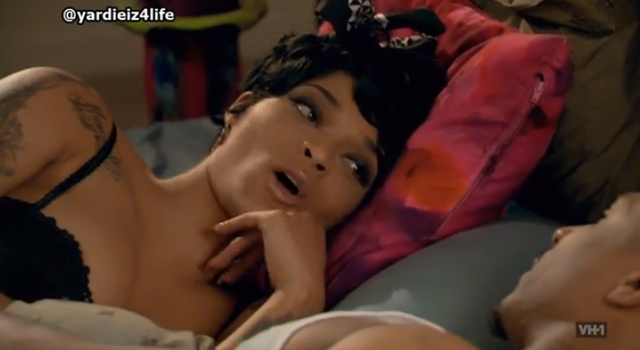 I'm not sure if it's accurate to say that Joseline is winning, but she's getting the dick she wants at least. For now.
And as soon as Joseline gets Stevie back in her clutches, she sics him on his best friend Benzino.
If you'll recall in the previous episode, Benzino's ex-girlfriend Karlie was chirping about a sex tape she'd seen of Joseline masturbating that Benzino showed her. Or rather, the video showed Joseline playing with her "kooty kat" as she calls it.
He also told Karlie that he fucked Joseline.
Even when dealing with thieves, there's an honor code that shouldn't be broken. And for Benzino and Stevie J, a bro cannot sleep with another bro's hoes.
So Stevie and Joseline set out to confront Benzino over the allegations.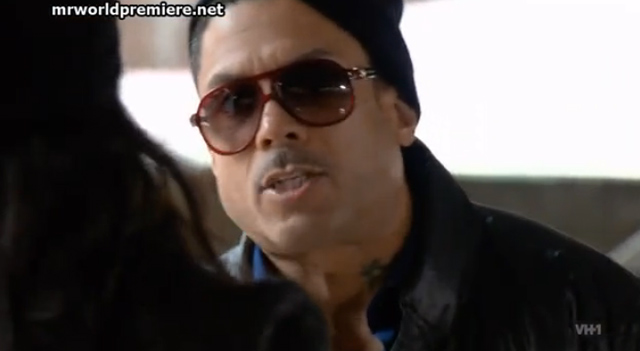 Benzino, as expected, denies that he distributed Joseline's so-called sex tape and denies that he told Karlie that he slept with Joseline.
Not so fast, Mr. No-neck. Joseline whips out her iPhone and shows Stevie the Twitter DMs that Benzino sent her around 6 am as he was trying to get into her panties.
Guilty: Party of 1.
But Benzino doesn't give in. He insists the DMs were platonic, even though Joseline felt they were sexual advances.
I'm inclined to believe Joseline because shortly after this episode aired, Lil' Scrappy's fiancee Erica Dixon blasted Benzino for his attempt at a DM love affair.
@IAMBENZINO I'm good boo. You don't have to dm

— Erica Dixon (@MsEricaDixon) May 14, 2013
So yeah, platonic tweets my foot.
In the end, Stevie and Benzino part on bad terms and the two sever their "brotherhood." I might be inclined to feel sorry for Benzino, but his troll face makes you want to root for his downfall. I won't lie though, I enjoyed watching Benzino take that L from Joseline.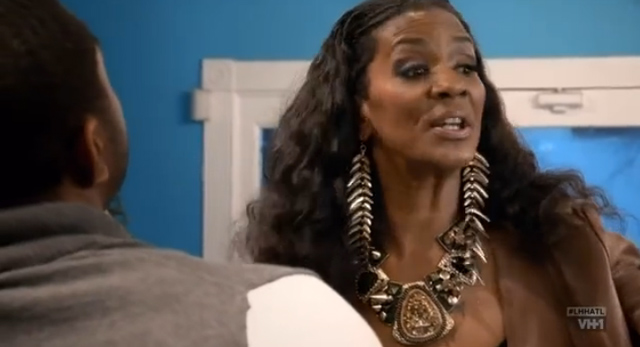 Momma Dee Spoils Scrappy's Hopes of Happily Ever After
After the big brawl at Erica's house, things aren't going so well for Scrappy's love life. His mother is buzzing around his ears like a vulture, urging him to drop Erica for someone who will love him better.
Scrappy holds firm on his commitment to Erica, but doesn't necessarily check his mother in the way that Erica would like him to.
Case in point, Momma Dee comes over to visit Scrappy and calls Erica "a disrespectful bitch" repeatedly.
Later, when Scrappy tries to patch things up with Erica he struggles to break through her walls.
"I can't accept the fact that you chose your mother over me," she says.
Now see, Erica is doing the wrong thing. You cannot ask a man to choose between you and his mother. Well, you can, but that's some evil shit to do. As a mother herself, Erica should know better than to ask a child to betray its mother.
Could Momma Dee be more respectful? Absolutely. Has Erica been aware of Momma Dee's eccentricities from the beginning? Yep.
Either accept Momma Dee and find coping mechanisms, or leave Scrappy alone, and live and let go.
Asking a man to ditch his mother to honor you proves that your relationship is totally on the wrong track.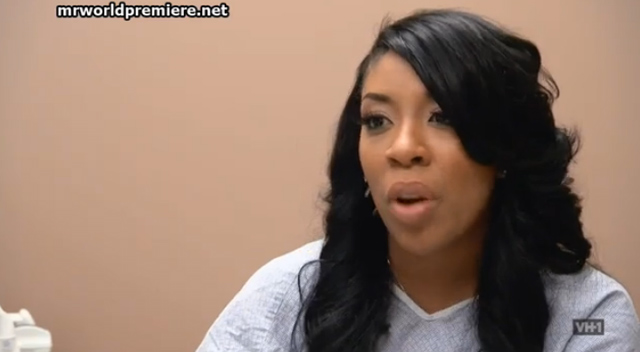 Doctor, My Hoohah Done Broke!
I'm convinced that K. Michelle is bored. How else to explain the painfully artificial set-up in which K. Michelle confesses to her gal pal Mimi that her "hoohah" is broken and needs mending? Apparently, her last sexual partner had a "big thang" and he rocked her boat so good that she can no longer climax without him.
In other words: Homeboy got her dickmatized.
K. Michelle ropes Mimi into going with her to visit her gynecologist and well, since Mimi has nothing better to do, she tags along.
Of course NOTHING is wrong with K. Michelle so once the examination is over, the doctor looks at her like, "WTF are you doing here?
An episode of LHHA wouldn't be complete without a rowdy fight from K. Michelle and episode 4 doesn't disappoint as Rasheeda's husband, Kirk, approaches K. Michelle about her assault of his wife.
K. Michelle is unapologetic and she gets her back up against the wall when Kirk tells her that violence toward his wife is unacceptable.
"Fuck your wife!," K. Michelle screamed over and over again. "You and Rasheeda lesbian relationship, y'all can keep that!"
This bitch be asking for it. Funny as she may be, her conflict resolution skills are worse than a kindergartener's. This will serve her well as she crosses over into "Love & Hip Hop New York."
At this point, the only people talking to K. Michelle are Mimi and Ariane. And Ariane is a part-time cast mate so she barely even counts.
Be the first to receive breaking news alerts and more stories like this by subscribing to our mailing list.