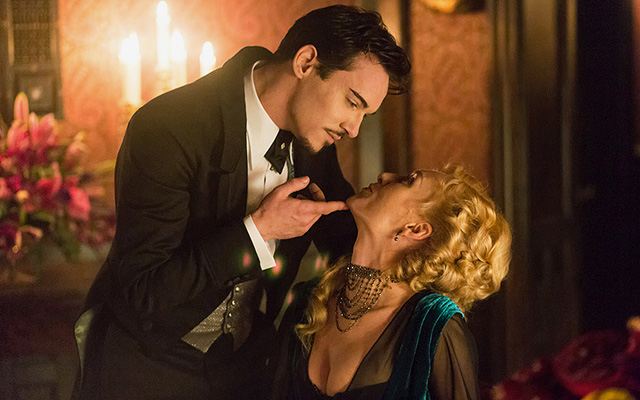 Dirty hot Irishman Jonathan Rhys-Meyers has taken on the role of one of the most famous dirty hot vampires! The actor will soon appear in the title role in the upcoming NBC series "Dracula."
Since the network has just cancelled a bunch of shows, it's going to need a boost and you can't go wrong with smoking hot vampire sex (see "True Blood," "Vampire Diaries").
Based on the trailer, "Dracula" will have plenty of steamy moments. Sadly, all of the vampire-on-human boot-knocking will have to stick to the rules of basic cable.
The 10-episode series follows Dracula, who poses as an American businessman attempting to bring new technologies to Victorian London. But as anyone who has read Bram Stoker's novel (or just the CliffsNotes) will know, he's actually seeking revenge on those who destroyed him centuries ago. His plans go awry when he meets a woman who thoroughly resembles his dead wife. Cue dramatic soap opera score.
"Dracula" is produced by the same folks that brought you the frustratingly addictive "Downton Abby," so you can expect plenty of "oh no they didn't!" moments.
Of course, one of the prime reasons to tune in is Meyers, who despite being tremendously talented has struggled with addiction and been arrested here and there. Hopefully, the show will serve as his comeback. Who doesn't love a good celeb reinvention?
The star first caught the attention of audiences when he starred as a swoon-worthy soccer coach in the 2002 sleeper hit "Bend it Like Beckham." After notable roles in flicks like "Match Point," the 35-year-old portrayed vile man slut King Henry VII in the Showtime series "The Tudors."
Meyers will soon be seen in the highly awaited adaptation of "The Mortal Instruments: City of Bones." Set in New York, the film follows a teen girl (Lilly Collins), who learns she is a descendant of a line of Shadowhunters (part-angel warriors), who must protect the world from demonic forces.
NBC's "Dracula" will debut this fall and will air on Fridays at 10 p.m.
Be the first to receive breaking news alerts and more stories like this by subscribing to our mailing list.