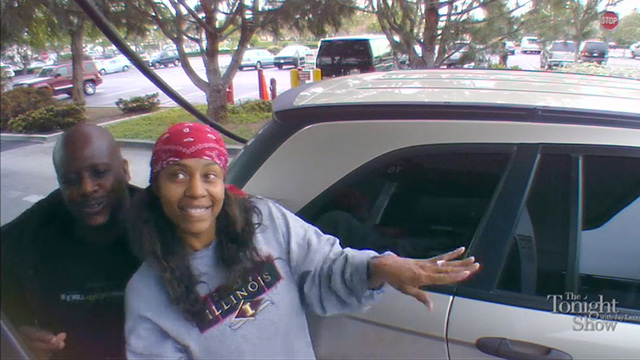 Jay Leno seems like a nice fellow, but his jokes tend to only be hilarious to people who love humor along the lines of "Pull my finger." However, in a recent sketch called Pumpcast News sketch — in which a fake newscaster tries to freak out people by talking to them as the pump their gas — miraculously, it didn't make me want to yell out to the TV, "What in the f**k is this bulls**t?" Much of that has to do with the happy singing Black people at the pump who participated.
Do you know what I love most about this couple? Once her man started singing Bon Jovi out loud and doing a lil' sway, she hopped out of the car to join him. Okay, it took a little coercing, but not very much. She was getting her life and he was eager to play the Kelly to her Beyoncé.
Now that is love. Let that be a lesson to us all: The couple that sings off key and twirks something together, stays together. Still going to watch Letterman tomorrow, though.
Be the first to receive breaking news alerts and more stories like this by subscribing to our mailing list.