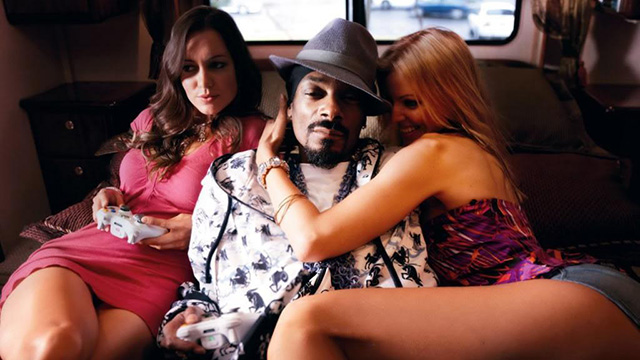 Snoop Dogg and Lion used to pimp as recent as 2003. "I put an organization together," the Rasta who now wants to be recognized as Snoop Lion told Rolling Stone.
Raise your hand if you can already see this interview being pulled up the next time he signs on for an endorsement deal. For Snoop's sake, I hope he'll be hawking condoms and KY jelly.
On how he built this side hustle:
"I did a Playboy tour, and I had a bus follow me with ten bitches on it. I could fire a bitch, fuck a bitch, get a new ho: It was my program. City to city, titty to titty, hotel room to hotel room, athlete to athlete, entertainer to entertainer."
You can tell he's incredibly proud of himself for all of this.
On professional athletes patronizing his small business venture:
"If I'm in a city where where the Denver Broncos or the Nuggets play, I get a couple of they players to come hang out, pick and choose, and whichever one you like comes with a number. A lot of athletes bought pussy from me."
If you listen closely, you can hear the hearts of the various athletes who patronized Snoop's pimp program falling to the ground in grave fear.
On being a generous pimp:
"I'd act like I'd take the money from the bitch, but I'd let her have it. It was never about the money; it was about the fascination of being a pimp . . . As a kid I dreamed of being a pimp, I dreamed of having cars and clothes and bitches to match. I said, 'Fuck it – I'm finna do it.'"
In other words, as a platinum-selling rapper who by then crossed over into the mainstream to cash new checks, he didn't pimp out of necessity. No, he did so because he had long dreamed of exploiting women.
Normally, I'd insert a "Dare to dream!" quote here, but you know, seems inappropriate to encourage people to end up a character on a future episode of Law and Order: SVU.
Be the first to receive breaking news alerts and more stories like this by subscribing to our mailing list.