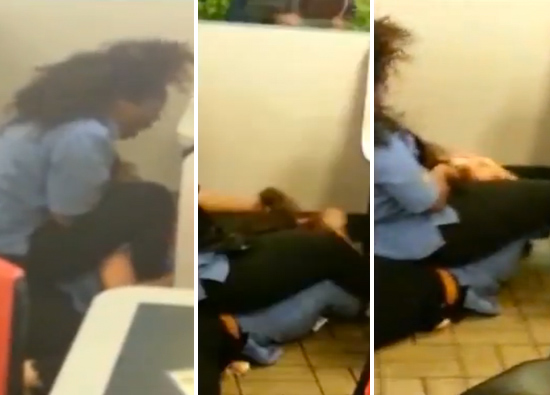 When it comes to World Star Hip Hop fights, most of us can admit to enjoying some of the amateur boxing that takes place in local restaurants and parties and gets uploaded for our amusement. But this latest fight from a waffle house in Augusta, Ga. might have crossed the line.
Without operating on very much information here, it appears that the four women staff at a waffle house in Augusta engaged in a brouhaha. The ladies split into pairs and two waitresses got to tussling in the corner on the right. On the left side of the video, a larger women wearing yellow scraps and then restrains a woman in a green t-shirt.
While the camera is focused on the woman in yellow and the lady in green, you hear a primal howl of anguish and distress and the camera quickly shifts to the two ladies fighting on the right. That's when we see what caused the blood-curdling cries: One waitress is sitting on top of the other as she pulls her hair out in handfuls.
You can hear the tearing and ripping as she yanks without restraint and then punches her co-worker in the face.
Jesus Christ.
I'm usually inclined to crack jokes on these videos but this kind of violence just makes me want to curl up in a corner and weep. All I know is somebody better see some jailtime behind this mess.
Watch the video of the brutal beatdown, if you can stomach it, below.
Be the first to receive breaking news alerts and more stories like this by subscribing to our mailing list.