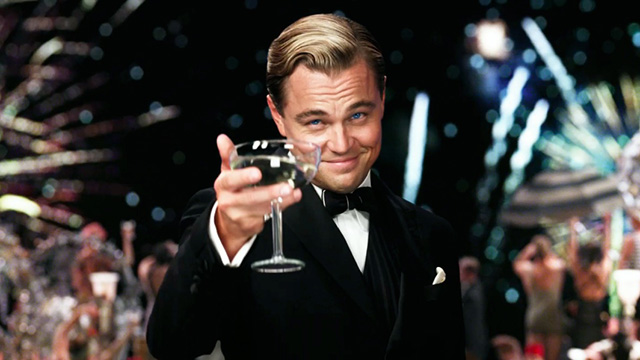 The Great Gatsby starring Leonardo DiCaprio, Tobey Maguire, Carey Mulligan, Isla Fisher and Joel Edgerton hits theaters Friday May 10 and the reviews are mixed. However, I was invited to an advanced screening of the movie at the Ziegfield Theater in New York earlier this week, and the movie was excellent.
Let's start with the decadence and extravagant setting that director Baz Luhrmann, who also directed Moulin Rouge, Romeo + Juliet and Australia, has proved that he is so good at.
The movie boasts beautiful clothes, colorful scenes and energy that can give 1920s performer a run for her money. On top of the decadence the movie was filmed in 3D and really added to the experience. In the older scenes, the 3d looked vintage and in the newer scenes the 3d just makes the movie pop.
With a soundtrack that was produced by Jay-Z, it's no wonder that the music was top notch. Taking a modern day approach and using Rap and R&B music, as opposed to Jazz as in the original novel, the music gives the movie an edge that only Jay-Z could produce.
No Church in the Wild adds to the grittiness of New York in the 1920s, Jay-Z's 100 Bill talks to the decadence of the period, H to the Izzo shows of the party spirit of New Yorkers back in the day and Beyoncé's Amy Winehouse cover for Back to Black illustrates Gatsby's desperation over Daisy. I would definitely recommend picking up the soundtrack.
Last but not least, the glue of the movie, the actors. DiCaprio, as he always does, shines on the big screen as Gatsby. Playing a man living a lie, DiCaprio makes you believe everything Gatsby says or does, true or not.
Maguire as Nick Carraway flaunts his innocence as a man that gets caught up in Gatsby's lies to the tee. Mulligan, who plays the love interest that Gatsby has built his whole life for and the wife of Edgerton, nails her role has a naive woman that also shows off her cold, selfish side.
Edgerton is excellent as Daisy's billionaire husband slowly coming unhinged throughout the movie as he realizes he is losing his wife to Gatsby until the end where he also shows his selfishness.
Based on the novel by F. Scott Fitzgerald, The Great Gatsby is about a man living a lie to escape his past and putting all on the line for love.
The Great Gatsby hits theaters May 1o and I recommend you go see it.
Be the first to receive breaking news alerts and more stories like this by subscribing to our mailing list.