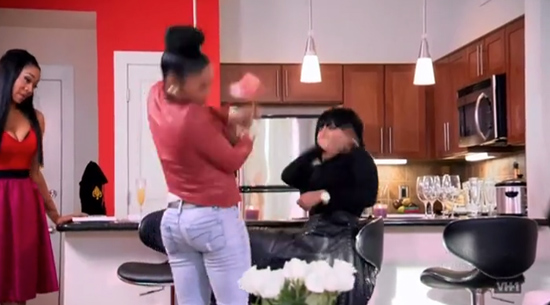 When the women of "Love & Hip Hop Altanta" get to scrappin', any and everything can and will be used as a weapon. K. Michelle proves that even a Yankee Doodle candle can be used to go upside a bitch's head in the third episode of season 2 of LHHATL.
It's no secret that K. Michelle and Rasheeda are no longer homegirls. That much was made clear at the end of last season when K. Michelle delivered that hollering, drawn-out monologue about how wrong it was for Rasheeda to doubt the authenticity of her claims that Memphitz assaulted her.
The episode actually kicks off with Karlie Redd in the booth doing her best attempt at imitating Nicki Minaj. She even tries to jack her "bitches is my sons" line like nobody would notice her xeroxed lyrics.
Ms. Inflate-a-Booty is apparently doing her best Roman Zolanski for a reason though: She's recording a K. Michelle diss track.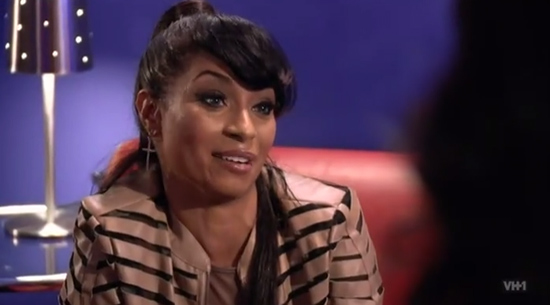 Since Karlie Redd is spineless and bored, she called Rasheeda in to listen to the track and the newest cast member DJ Traci Steele tagged along too. Guess they have to start weaving into other people's story lines at some point.
"Pure comedy, I will say," is the way that Rasheeda describes Karlie's diss track. What she really meant to say is that it's the most abysmal piece of shit to be recorded since Rebecca Black's "Friday," but Rasheeda has made enough enemies so she opted to be polite.
Karlie invites Rasheeda to jump on the track with a verse, but Rasheeda resists, saying she'd rather not waste her "voice" on K. Michelle. What she really doesn't want to waste is her time on a Karlie Redd track.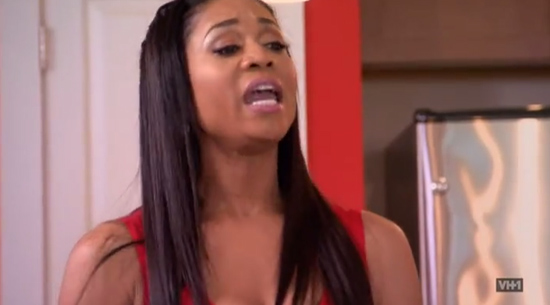 Later on in the episode, Mimi gathers some of her gal pals for a housewarming party. It's Ariane, Rasheeda, herself and K. Michelle. At first, when Rasheeda walks in the room, they ignore each other. But then instigatin' ass Arianne forces the two to acknowledge each other on some, "Ain't you gonna say hi?" shit.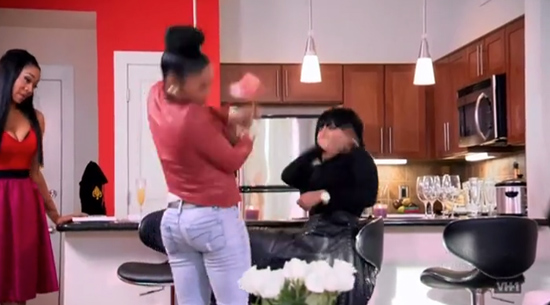 And before you know it, K. Michelle and Rasheeda are calling each other all kinds of bitches and candles with hot wax start flying and legs start pumping out kicks.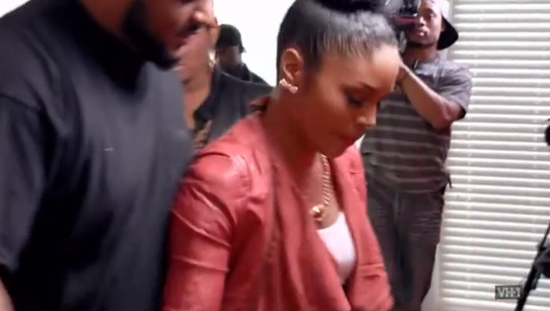 Rasheeda is livid about the whole fight and she tries several times to break away from security to land a few blows on K. Michelle but no such luck. If we're marking tallies, I'd have to give this round to K. Michelle. Not only did she pull the "three earrings" line out on Rasheeda's husband Kirk Frost, but she splashed Rasheeda's big sideburns with hot wax, landed a kick on her and mocked her flow for sounding like Shawty Lo. Fatality.
Momma Dee and Erica Get to Fussin' and Fightin'
When it comes to her future daughter-in-law Erica Dixon, Momma Dee is not a fan. She's made it clear to her son and the television viewing audience that she would prefer it if her beloved "Prince of the South" never had anything to do with his babymama Erica Dixon again.
Unfortunately, Scrappy is trying to do the right thing so he's trying to wife up his baby moms and make it official. But Momma Dee is sabotaging his efforts by scooping Shay up and dropping her off for tearful confessions of heartache and longing.
Scrappy decides that the best way to handle Momma Dee's behavior is to have her over the house for dinner so they can make peace and eat fried chicken. Honestly, it's not a bad idea. Who the hell can be mad when you've got a nice, juicy piece of deep fried chicken breast right underneath your nose?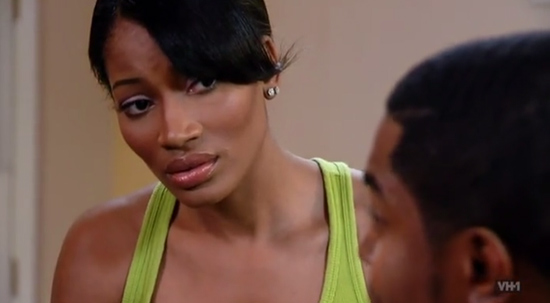 Erica on the other hand is not so convinced. But she doesn't want to appear combative so she goes along with the idea.
What ends up happening at the dinner isn't a peace summit, but rather all out World War III.
It started out OK for the first five minutes, but then Scrappy went ahead and jumped in to the controversial topics straight from the jump before the collard greens even hit the table.
While Scrappy was waxing poetic about how he wanted Erica's mom to believe in his love for her daughter, Momma Dee was on the sideline backing Mignon, Erica's mama, up saying "Well, if that's how she feels…"
When Mignon brought up Scrappy's past infidelity for the millionth time, he called Erica back to the table for back-up and that's when things really went downhill because Momma Dee tried to defend her son against Mignon's critiques.
Erica jumped in and said, "Hold up! What about all the times your mama called me a bitch?"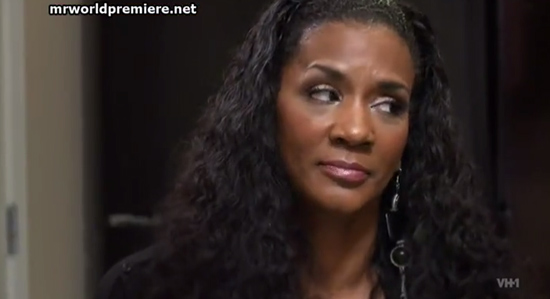 If Momma Dee's side-eyes were a machine gun, they would've massacred Erica right then and there.
But if the dispute between Momma Dee and Erica had been relegated to side-eyes and shade throwing, it wouldn't have been such a big deal. But Erica went into straight ratchet mode and got VERY loud with Momma Dee. Then she started shoving Scrappy and all hell broke loose as Momma Dee tried to claw at Erica.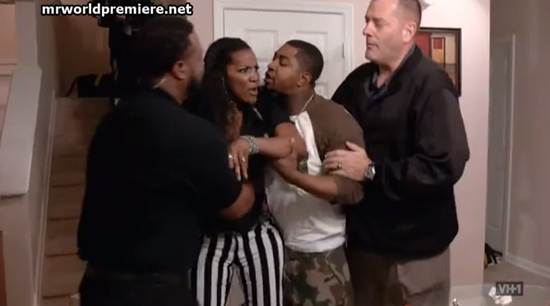 Scrappy urged his mother to wait for him in the car while Erica continued to holler and spit fire like a volcano. In the midst of Erica's volatile temper tantrum, Scrappy called off their engagement and demanded the ring back.
"You might as well g'on and take that ring off," Scrappy warned.
But Erica didn't flinch and she drove off in her red Mercedes-Benz leaving Momma Dee and Scrappy in her driveway with nothing to show for their efforts.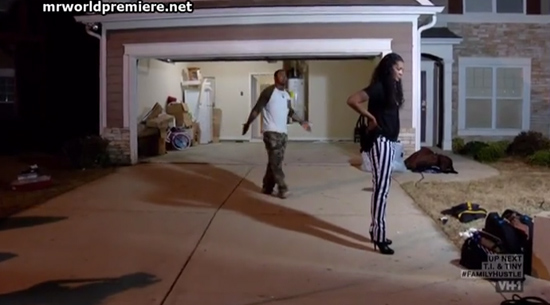 Checkmate, Ms. Dixon. Checkmate.
Be the first to receive breaking news alerts and more stories like this by subscribing to our mailing list.