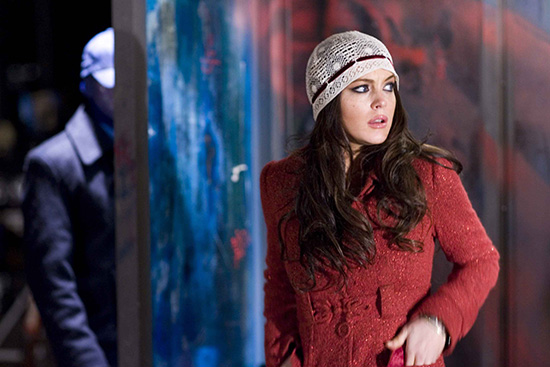 Longtime crazy train passenger Lindsay Lohan is currently in rehab and unable to give those awkward, lie-filled interviews we love so much. But thankfully, just before she checked into the Betty Ford clinic in LA, she gave an interview with Piers Morgan in which she talked a whole lot of hilarious nonsense.
For instance, the actress claims that the only time she voluntarily went into rehab was when she was filming the 2007 film "I Know Who Killed Me" because working on the film gave her "nightmares."
That's right. Neither her addiction to drugs/alcohol nor the fact that she's as troubled as they come sent her to rehab. It was because she's such a method actress and got so deep into her role that she became "traumatized" by the whole thing.
Girl, please!
I'm no expert on rehabilitation facilities or anything like that, but I'm going to go on ahead and assume that rehab isn't for curing the effects of starring in a shitty movie that gave you bad dreams.
"Once. I went when I was doing a movie called 'I Know Who Killed Me,' and I hadn't been drinking for a year at that point, but I was having really bad nightmares and the movie was pretty traumatizing. So I stayed in a facility so I could get some sleep and talk about it with someone the next day, because it was overwhelming. But I would leave every day and just sleep there at night," she continues, "I liked that. It was kind of like having my own live-in therapist, because I was having crazy nightmares and I was having AA meetings on set and stuff. It really helped."
In her defense, I've seen that hot mess of a movie and it has haunted me to this day. I could have definitely used some counseling to get over watching that steaming pile of garbage. The movie makes "Liz & Dick" look like "Citizen Kane."
For those of you that haven't seen the film (hello, most of the world), the plot centers on a teenager who is kidnapped and tortured by a serial killer. Meanwhile, a stripper, who happens to be her secret twin sister, mysteriously begins losing her fingers and eventually her leg.
Warning: Spoilers ahead! (If you care…)

That's because the twins are so connected that what happens to one of them also happens to the other. Meaning, when the murderer is cutting off girl A's limbs, girl B also loses body parts.
If you think that's funny, there's also a scene in which the stripper runs to rescue her sister but doesn't realize she forgot to charge her prosthetic leg and has to hop through the woods without it.
These are the things that nightmares are made of people!
Watch the trailer for "I Know Who Killed Me" here:
Be the first to receive breaking news alerts and more stories like this by subscribing to our mailing list.