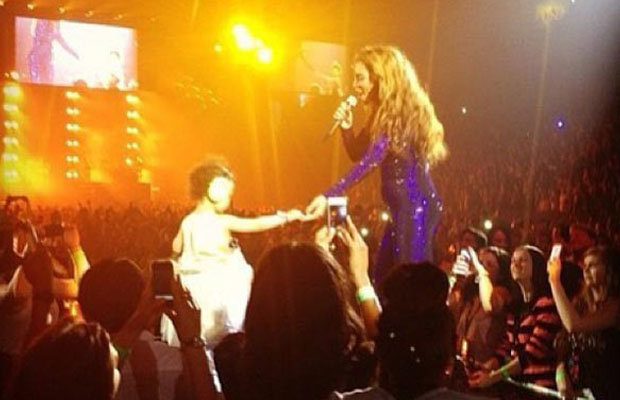 Beyonce fans are always happy to catch a glimpse of any pictures or video of Blue Ivy Carter, and this weekend at her concert in London, they got a real treat. Or at least they thought they did.
Beyonce was performing her hit song "Irreplaceable" and a little girl who appeared to be Blue Ivy made an appearance towards the end of the song. At one point, Beyonce grabs the girl's hand as the crowd erupts into applause for the adorable tyke before she is taken back into the crowd.
WATCH HERE:
But while the little girl in the video from afar looks like she could pass for Blue Ivy, she actually looks to be bigger and a bit older than Blue, who is only about 15 months old. Besides, Beyonce's reps have shut down the rumors that the kid in the video is Blue:
Beyonce's rep tells E! News that that particular cutie pie is not Blue Ivy, but simply an adorable little concertgoer who happened to be in attendance at the concert and was lucky enough to make her way onstage.
And while fans surely are anxious about any Blue Ivy sightings, Beyonce may be soon giving them more than they can handle. In a recent interview with ABC News, Beyonce talked about motherhood and expanding her family.
"I would like more children," Beyonce said. "I think my daughter needs some company. I definitely love being big sister," she said.
"My biggest job in the world is to protect my daughter, and I am very protective. I just want to make sure that she can have a healthy, safe, normal life … I feel really, really just lucky that I can still do what I love, and now have a way bigger meaning. And that's to be her mother."
So now, Beyonce fans, you can rejoice! Blue Ivy is certainly an adorable baby, but what could be better than another Carter baby???
WATCH BEYONCE'S FULL ABC INTERVIEW HERE:
Be the first to receive breaking news alerts and more stories like this by subscribing to our mailing list.