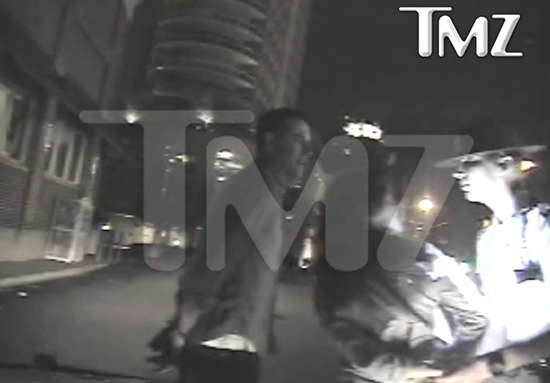 The Reese Witherspoon arrest tapes (or as Kathy Griffin would call them, "A gift from baby Jesus") hit the web this past weekend, and boy are they delightful. In the footage, Witherspoon repeatedly refers to herself as an "American citizen," which she thinks makes her exempt from having to follow laws.
Strangely, it was her husband Jim Toth, who was arrested for driving drunk but in the video, he seems far more collected and rational than the "Legally Blonde" star.
Special thanks to TMZ for mysteriously obtaining the police footage and giving the world a good chuckle.
---
In an upcoming episode of "Keeping Up With the Kardashians," Kim Kardashian's frightening near-miscarriage is used as a plot device to drum up ratings. As Radar Online notes, the promo for the E! series features the star crying historically on an exam table. Yay for exploiting pregnancy struggles for the sake of entertainment!
---
Gwyneth Paltrow thinks her "Iron Man" character Pepper Pots is due for her own movie because journalists said so. At a press conference for the film, the queen of GOOP talked about doing a spin-off due to popular demand.
"The nice thing is that everybody's sort of been very sweet about Pepper in this movie, like all the journalists who came in. They were like, "oh my God, you have to have your own movie," because in the comics, Pepper gets her own suit, and she becomes a character called Rescue. They're like, we need a Rescue movie, and I'm like, okay, well, I'd better hit the gym."
Yet another movie to add to the list of "Shit No One Wants to See."
---
Radar is reporting that Denise Richards now has custody of Brooke Mueller and Charlie Sheen's twins because Muller hasn't been able to kick her drug habit. Hopefully, there's already a fund set up for the years of therapy these kids are going to need because when the adults you're forced to depend on are these three … chances are you're going to grow up cursing the world.
---
PEOPLE reports that Jaime King, who stars in the series Heart of Dixie, is preggers with her first child with husband Kyle Newman.
---
One of the most annoying people to ever step into the limelight, Taylor Swift, has moved into a $17 million mansion. In all fairness, she needed a place large enough to house her enormous ego. Us Weekly reports that the asking price for the Rhode Island pad was initially $20 million but the singer was able to haggle her way to $17.75 million. What a steal!
---
In an interview with "The Wendy Williams Show," Paris Hilton revealed that she wants to start a family. She also said that aside from bashing gay men, she's grown out of being a moron.
"I'm staying out of trouble," she said "I think that's every woman's dream," Hilton explained. "I think that's the meaning of life to have children and have a family one day."
---
Vanessa Hudgens has been ruining movies for years and now she's churning out seizure-inducing music videos. As the Huffington Post reported, "$$$ex" hit the web on Friday and few can watch it the whole way through.
---
"Pitch Perfect" star Anna Camp and her husband Michael Mosley are getting a divorce. The pair reportedly separated this past New Year's Day. Perhaps her wince-inducing barf scenes in the musical were to blame.
Be the first to receive breaking news alerts and more stories like this by subscribing to our mailing list.