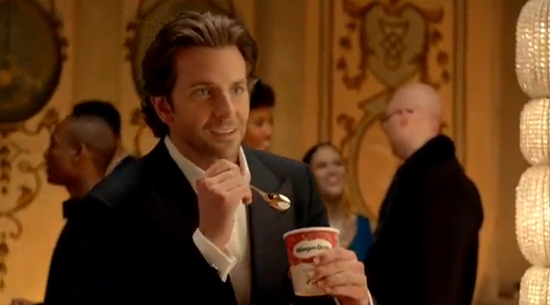 In a move that will surely take him down a notch, Bradley Cooper is now the face of famous ice cream brand Häagen-Dazs. So now whenever you're on your couch watching bad reality TV and scarfing down Java Chip, you'll be thinking of the "Sexiest Man Alive."

Cooper, who is a well-trained actor, is following in the paid spokesman footsteps of Hollywood legends. Who could forget Marlon Brando's sultry Ben and Jerry's ad.
The lavish promo begins with Cooper, who looks dapper in a suit, doing what most men do at a high class event — eating from a tub of Häagen-Dazs in slow motion.
Whenever I'm at a fancy party, I'm always drawn to the man who has his head buried in complex sugars. So it's no surprise that a lovely brunette (model Jana Perez) finds herself drawn to the handsome, ice cream-eating stranger.
The two sneak off for some privacy but in a shocking twist, she steals his ice-cream, as one does she they're faced with a choice between desert and Bradley Cooper.
The woman then locks him in a room, you know in case he turns violent, and tries to get back his stolen food. But wait…he's still got the spoon! What is the attractive ice cream thief to do?
The answer: Eat it with her finger.
WATCH THE HAAGEN-DAZS AD BELOW
I was about to lose a bit of love for Cooper but then I remembered that this video of him speaking French exists.
Crush reignited.
Cooper, who recently earned an Oscar nomination for his role in Silver Linings Playbook, will soon appear in the highly awaited The Hangover 3. The star is set to begin filming American Sniper based on the autobiography of the late Navy SEAL Chris Kyle.
Be the first to receive breaking news alerts and more stories like this by subscribing to our mailing list.