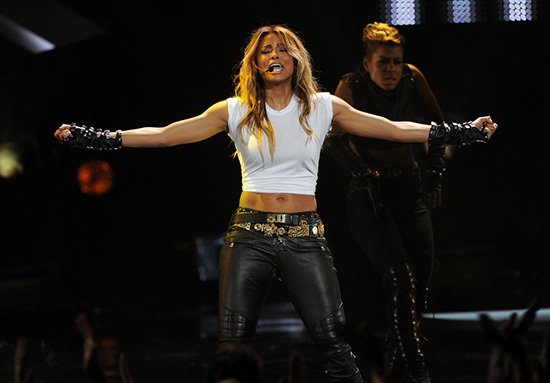 I love Ciara's "Body Party." So much so that I made a $1.29 donation to her "Keep Me Relevant" fund on iTunes. I want this girl to win even if she continues to express her own reservations with such an outcome. I don't love the "Body Party" video, though, or at least, not as much as others seem to.
For one, she's not dancing enough. Not to mention, I've seen this sex kitten bit from her. Don't get me wrong. God bless the sex kittens, but at what point do you get the ones who offer the same purr the exact same way every single time spayed?
That aside, anyone working to bring back the butterfly has my full support on such endeavor. Beyoncé did her part by including it as an old school dance in the "Get Me Bodied" video, but I've got to give it CiCi just doing it because it felt right. You better believe the first thing I did when I was able to crawl out of bed from illness late last week was to do the butterfly.
So yes, gon' Ciara, and might I add, I also enjoy the reference to Janet's video for "That's The Way Love Goes." At the same time, I think that's why I don't completely love this video and why I can't completely commit myself to the band of misfits known as the C-Squad. Well, I think that's what they're called. Whatever, you get it.
How many Janet Jackson videos is Ciara going to recreate exactly? Okay, so it wasn't a direct rip like those other two drawn from Damita Jo's "You Want This" visual, but once I found out Ciara's album change, I began to frown.
The fact that Ciara has switched her album title from One Woman Army to simply Ciara and the motivation behind it is not lost on me, he who has been a long time attendant of the Church of Janet Jackson and Butterflying Saints. Like the janet. album, Ciara marks Ciara's fifth studio offering. Coincidentally, it's the 20th anniversary of the janet. album.
All that plus the single cover for "Body Party" mimicking Janet's single covers for "You Want This" and "All For You." I'm not sure Janet Jackson knows what a Ciara is, and even if she did, she's too busy swimming in her husband's money fault as armed guards block brother Jermaine access into hers. Still, I'm irked for her.
Meanwhile, earlier someone asked me, "Do we believe this relationship?" referring to her and Future.
My response was, "I believe part of Ciara's attraction is the idea that it'll boost her celebrity." That's not to say her feelings aren't more genuine than that horrible valley girl tone she now speaks in, but I do think Ciara and Future want us to know they're a thing. You can tell because they keep force-feeding it to the press blogs.
I wish someone would tell her that being a Kardashian is not a ticket to the musical promised land.
But because I'm such a good and modest person, I'm hoping Ciara's fifth album is good and she can at least get her a gold plaque out of the deal. No matter what happens, however, I find Ciara creatively lazy. She is not an artist. She just wants to be famous. That's fine, but riding Janet Jackson's jock alone won't get you there.
The other day another friend was lamenting how Ciara continues to let her potential to evolve as a dancer and performer go by the wayside. I used to share those frustrations, which is why my criticism of her could be a wee bit on the harsh side. Okay, my ass was mean as hell. I'm over it, though.
Just gimme an album I can twirk, too, Ciara. I don't trust you on much else — including Janet level performances and videos. Hell, not even Mya terms of artistry (refer to the Moodring album). If you want to see an act take choreography seriously, go look up the "Grown Woman" performance. Or hell, the OMG Girlz…and the gays, of course.
You won't ever be Janet, Ciara, but maybe you can become the music star La Toya never was. But, I do hope some other young woman steps up and gives us the kind of music Janet did years ago. Something socially conscious, self-affirming, and sexual. Ugh, dammit, I miss you so much, Janet. You can't take off that burka for a few minutes and give me one more album (a good one).
By the way, I want Ciara to stop acting as if she's consumed with "positivity" when it comes to Rihanna — so much so that she won't be bothered with their rift. Girl, look above. You started that. Don't be cunty if you don't want to deal with the consequences.
Be the first to receive breaking news alerts and more stories like this by subscribing to our mailing list.