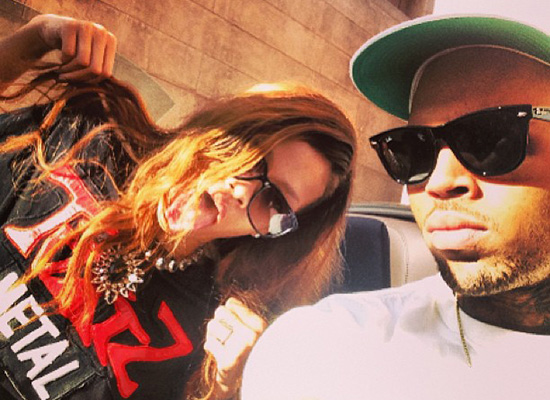 The carousel ride that is Chris Brown and Rihanna's relationship is a dizzying tornado of passion, temper tantrums and weed smoking. But it looks like the pair might be heading in separate directions now.
According to numerous reports, Rihanna has followed Drake on Instagram and Chris has unfollowed Rihanna on Twitter. Drake and Chris, as you'll recall, are not the best of friends, so Rihanna resuming her relationship with him is a pretty big sign that she's no longer on Team Breezy. To make matters even worse, RiRi was pictured on Twitter hugged up with and kissing on some guy (probably a fan).
Shit is overrated now a days.

— Chris Brown(@chrisbrown) April 29, 2013
As for Chris, the unfollow (and cryptic tweet above) wasn't the only message he sent. He also released a new song, appropriately titled "I Can't Win," that seems to address his situation with Rihanna. He said the track won't be on his next album 'X' but he took it to the web so his fans could weigh in.
Peep the lyrics below:
Tell me what did I do
To make you hate me so much
Why you angry all the time?
Why don't you wanna ride for me?
Girl, we used to make love
When you called, I would follow
Now the only thing you love is a bottle
The only thing you got left is a shadow
Don't let this sh-t come between us
I'm wrong you're right, its okay with my heart
But its not how its supposed to be
You always say I'm done and finished
F-ck it, I'm wrong you're right
Please God help us
I guess I'm gonna leave it up to you tonight

[Hook]
She ain't bluffin', she gon' do it
I think its time for me face to the music
I could really give a damn about my pride
But though with you I think its stupid
You gon' love with the lies, never compromise
Girl if you love me better prove it
I can't win, I can't win for losing

Dont even matter if you screamin' yeah
Girl you don't love me, you don't love yourself
But it dont matter if you raising Hell
I miss you, I wanna kiss you yeah
I can't remember who you are babe
Remember when your heart used to say
Love me babe, love me babe
I know them b-tches got in your way but,
Don't let this shit come between us
I'm wrong you're right, its okay with my heart
But its not how its supposed to be

[Hook]

I'm not trying to waste our love
I'm just trying to save whats left of it
One day, one day my love
You gon' realized that you f-cked up
And when that day comes my love
I'm gon' be the same one still lovin'
How are you gonna cancel me out?
Say I won't listen, but I'm listening now
Yeah, it definitely sounds like Chris has had his fill of RiRi. Who knew HE would be the one to end things though?
[H/T: Necole Bitchie]
Be the first to receive breaking news alerts and more stories like this by subscribing to our mailing list.