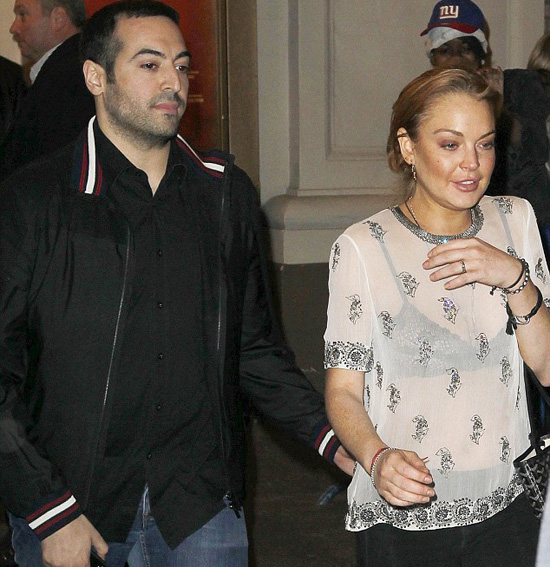 There has been a surprising totally predictable new development in the Lindsay Lohan saga. Dlisted is reporting that the troubled actress was in New York on Tuesday doing what she does best: showing up late and stooping to new lows in an attempt to stay afloat financially.
Lindsay reportedly arrived 45 minutes late to the Broadway production of "Orphans," starring Alec Baldwin and Ben Foster (who replaced Shia LaBeouf). The actress is said to have attended the play with her "sugar daddy" — who just so happens to be none other than billionaire Saudi businessman and film producer Mohammed Al Turki.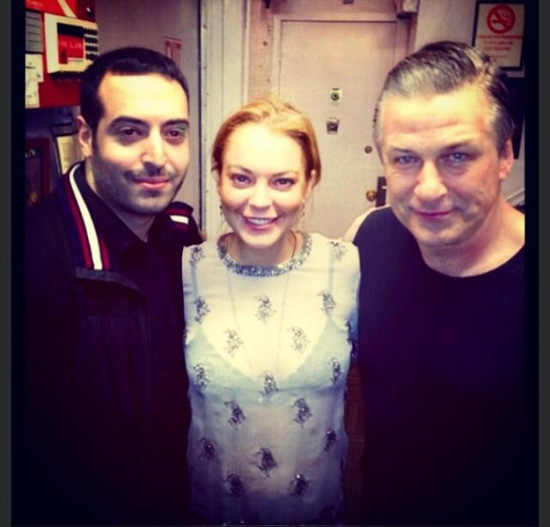 As The Daily Mail notes, this isn't the first time LiLo and MoMo have stepped out together. Lindsay was accompanied by Mohammad to New York's annual amfAR gala back in February, and the pair also attended Lady Gaga's NYC perfume launch last September.
Perhaps she's using him as a means of avoiding financial ruin and getting roles in films that aren't crappy Lifetime movies or pieces of garbage like say…"Scary Movie 5."
Whatever the reason, Lohan will have to get as much as she can out of this "relationship" before May 2 because that's when she's set to check into a 90-day rehab program.
Judging from a report that surfaced a couple of days ago, Lohan really needs it.
On Monday, Radar online broke a story claiming that Lohan snorted cocaine in a public bathroom stall right in front of blogger Nik Richie. The incident is written about in Richie's new book "Sex, Lies & Dirty."
Here's an excerpt:
"The PR girl opens the bathroom door for us to walk through and stands guard outside," Richie writes.

"It's candlelit, but the light makes my pupils shrink. Lindsay goes straight for the toilet, pulling her dress up and sitting (no underwear) and one of her breasts is hanging out the top of the dress.

"I start to wash my hands and she asks me, 'So, what's your story?' before doing an uneven line of coke off her wrist.

"I say, 'Nothing… just, y'know… partying.'"

"I'm watching Lindsay do coke to my right, that pale tit hanging out, and it takes a couple of seconds to kick in that it's intentional. I'm supposed to see this. She wants me to. And she's doing more coke, raising her eye-brows at me like, 'Want some?' She sniffs. Snorts. She swabs a little in her mouth and I've heard about this kind of thing on TV and in the papers, but it's different seeing it: the chick from 'Mean Girls' doing blow on the toilet next to me. She's not the same girl anymore. Something's changed. She's lost her way and seeing it is freaking me out."
Sure, this was way back in 2009 but we're going to bet that not much has changed since then.
Be the first to receive breaking news alerts and more stories like this by subscribing to our mailing list.