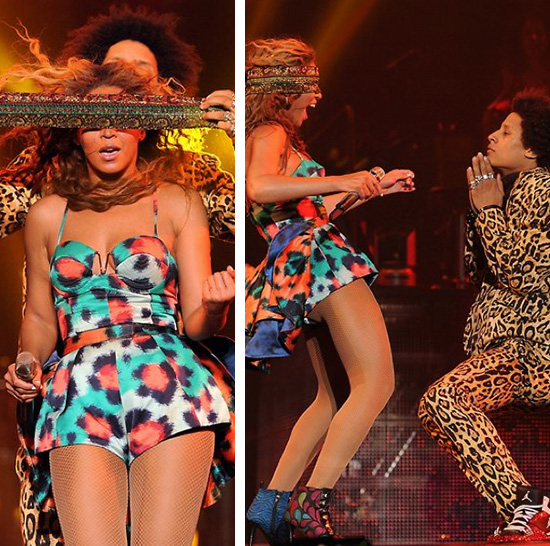 UPDATED WITH BETTER QUALITY VIDEO/AUDIO!!! SEE BELOW…
Fans at the Paris concert from Beyonce's Mrs. Carter Show World Tour got a taste of something new from Queen B when the singer performed "Grown Woman" for the sold-out crowd at Palais Omnisports de Paris-Bercy.
Clad in a colorful costume, Beyonce took the crowd through an energetic set, showing off an entirely new set of infectious dance moves. At one point, her dancers put a blindfold around her head, and she still killed it … even though she couldn't see a thing!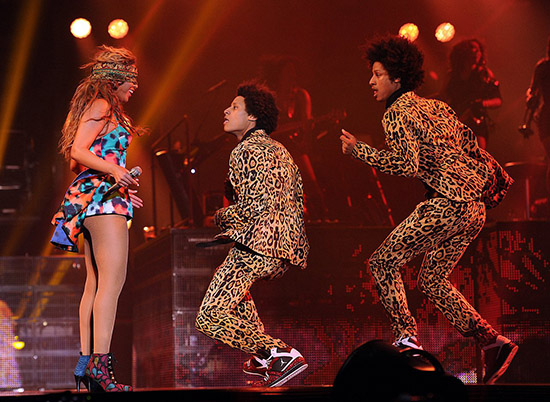 We first got a listen of "Grown Woman" when Beyoncé debuted her Pepsi Mirrors commercial. Many people wondered if "Grown Woman" would be Beyonce's first single off her upcoming fifth studio album, but her reps told Billboard it wasn't.
As far as the album as a whole is concerned, Bey's BFF Gwyneth Paltrow says its "coming."
"I've heard a lot, lot, lot of many songs," Paltrow said in an interview with Digital Spy. "I don't  know which ones have ended up on the album, but I've heard a lot as it's gone  on."
"Yes, it's coming," Paltrow added. "She's almost done but she's got a lot on  her plate."
Well if "Grown Woman" is anything to go by, fans are in for some amazing material from the Queen B. The tribal, pulse-pounding track has all of the swagger we expect from a Beyonce record plus the energy of something straight out of Michael Jackson's catalogue.
WATCH BEYONCE PERFORM HER NEW SONG HERE:

[H/T: Necole Bitchie]
Be the first to receive breaking news alerts and more stories like this by subscribing to our mailing list.