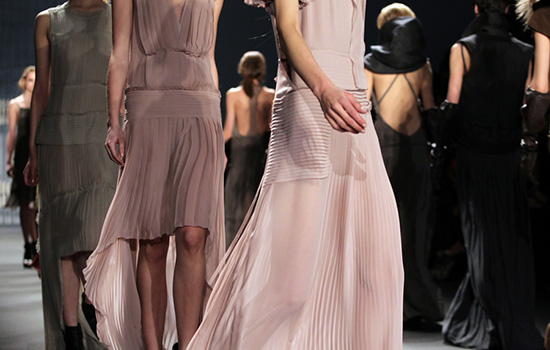 In sad but true news, a frightening story about modeling scouts recruiting women being treated for eating disorders has emerged.
The Local is reporting that the Stockholm Center for Eating Disorders in Sweden has had to fend off modeling agency recruiters.
"We think this is repugnant. People have stood outside our clinic and tried to pick up our girls because they know they are very thin," the facility's chief doctor Anna-Maria was quoted as saying.
So let's get this straight. Women who are going through an intense program so that they can learn that they don't have to be super thin to be beautiful just so they can be approached by someone who tells them the exact opposite?
The Local adds:
The last incident took place a year ago, when the clinic was forced to change its procedures for the walks that its patients take. One of the patients who was approached by a scout was so ill she was sitting in a wheelchair at the time.

In one incident, an agent with one of Sweden's largest modeling agencies approached a 14-year-old girl and left a business card.
Unfortunately, given the state of the fashion industry, this isn't that surprising. Who could forget the jaw-dropping book that was released earlier this month that was written by a former Vogue Australia editor?
In the book, "The Vogue Factor," Kristie Clements revealed that some models ate tissues and starved themselves for days to stay super slim.
So there you have it folks. If you want to gorge yourself on Kleenex and have someone think you look beautiful when you're battling a dangerous illness, get into fashion. They want people like you NOW.
Image via Shutterstock
Be the first to receive breaking news alerts and more stories like this by subscribing to our mailing list.