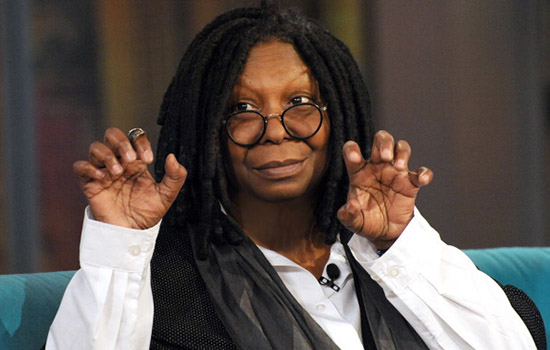 If you're one of the many people that doesn't have a fuck left to give about the daytime train wreck that is "The View," then you and Whoopi Goldberg definitely have something in common.
Goldberg was attending a Vanity Fair party in NYC on Tuesday night when a reporter from Us Weekly asked her who she thought should take over for her co-cacklers Elisabeth Hasselbeck and Joy Behar on the show's next season.
Whoopi's answer? Well … basically she couldn't care less about who she sits an gabs with. She's just happy to be paid tons of money to be part of the show — which is basically a massive parody of itself.
"Let me tell you this about 'The View': I take a paycheck every other week. That's all I do. I could give a shit what comes. I do my job — I have a contract. That's where I stand. I don't give a fuck."
How the ABC talk show has managed to stay on the air since 1997 will forever remain one of the world's greatest mysteries.
Many know the show simply as a platform in which four woman talk over one another and set the female cause back a few decades.
Of course one of the best parts is watching the under-qualified Elizabeth Hasselbeck (she got her start by being on "Survivor" for God's sake) act as though she's an expert on just about everything. Another unintentionally funny aspect of the show is how they have to continuously plug "female-friendly" products throughout each episode.
Honestly, the best part of the show is Whoopi and her "I don't give a fuck" attitude. More Whoopi, please!
Be the first to receive breaking news alerts and more stories like this by subscribing to our mailing list.