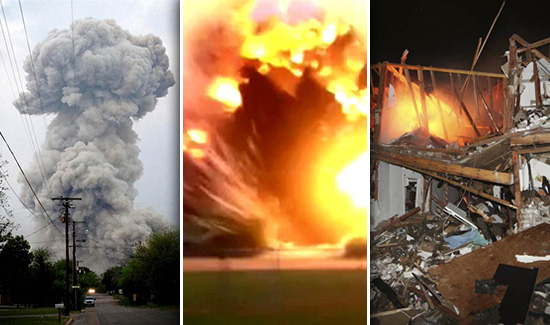 A fertilizer plant explosion in the small town of Waco, Texas last night (Wed, Apr 17) killed about 15 people and injured more than 160. Early Thursday morning rescue workers searched the rubble for any possible survivors after the explosion left many homes and business ruined as many of them caught on fire.
According to the Associated Press, the explosion erupted like an earthquake, shaking the ground, and could be heard/felt from 45 miles away.
"They are still getting injured folks out and they are evacuating people from their homes," Waco police Sgt. William Patrick Swanton said early Thursday morning. He continued, "At some point this will turn into a recovery operation, but at this point, we are still in search and rescue."
With the recent Boston Marathon bombing, which is being viewed as a terrorist attack, the explosion in Texas had many wondering whether this was this strike two on the United States in such a short period of time, but according to Swanton there isn't any indication that the blast was anything other than an industrial accident.
Among those that died were three to five volunteer firefighters and a law enforcement officer. It's still to early to determine just how many lives were lost as the rescue workers are still searching.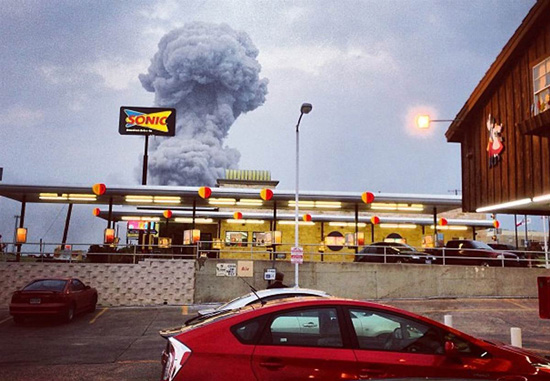 The AP reported that the explosion that struck around 8 p.m. leveled a four-block area around the plant that a member of the city council, Al Vanek, said was "totally decimated." The toll included 50 to 75 houses, an apartment complex with about 50 units that one state police officer said was reduced to "a skeleton," a middle school and the West Rest Haven Nursing Home, from which first-responders evacuated 133 patients, some in wheelchairs.
McLennan County Sheriff Parnell McNamara told the Chicago Tribune: "I've never seen anything like this … It looks like a war zone with all the debris."
Julie Zahirniako, who survived the explosion said she and her son Anthony were playing at a school playground near the fertilizer plant when the explosion hit. She said as she was walking and her son was kicking a football, the explosion threw her son four feet in the air, breaking his ribs.
"Hit the ground, hit the ground!" Zahirniako said she heard a neighbor yell. "The fire was so high," she said. "It was just as loud as it could be. The ground and everything was shaking."
In a statement released Thursday morning, President Obama thanked first responders in the "tight-knit" Texas community.
"I want to thank the first responders who worked tirelessly through the night to contain the situation and treat the wounded," the statement read. "My Administration, through FEMA and other agencies, is in close contact with our state and local partners on the ground to make sure there are no unmet needs as search and rescue and response operations continue. West is a town that many Texans hold near and dear to their hearts, and as residents continue to respond to this tragedy, they will have the support of the American people."
PHOTOS OF THE BLAST AND ITS AFTERMATH:
Be the first to receive breaking news alerts and more stories like this by subscribing to our mailing list.