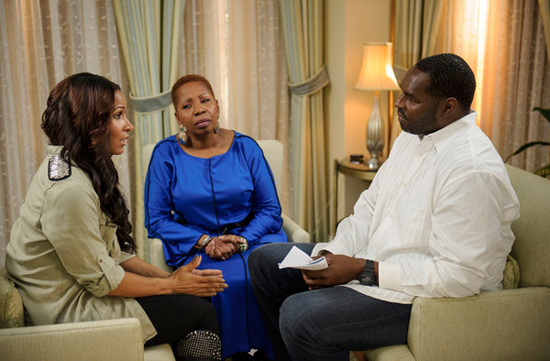 Anyone who's watched the "Real Housewives of Atlanta" knows that Sheree Whitfield does NOT get along with her ex-husband, Bob.
The struggles between her and her ex played out in its full glory during Sheree's stint on the show, culminating with the pressure-cooker-like court hearings when Sheree tried to take Bob to court for child support payments.
The animosity between the two reached volcanic temperatures and the two were shouting at each other and pouring water on one another by the end of the show.
Enter Iyanla Vanzant to "fix" their lives.
Sheree is on the outs now that she's no longer a part of the Housewives franchise so she's getting face time on as many reality programs as she can to keep the checks rolling.
DMX didn't care too much for his appearance on Iyanla's OWN show, "Iyanla: Fix My Life", but Bob Whitfield is a fan of Iyanla and the experience she puts her guests through, reports Straight from the A:
All that's been portrayed on tv between me and her has been just a whole lotta animosity, a whole lotta you know… hatred for each other. So the whole 'Iyanla: Fix My Life' thing was a chance at intervention… for an outsider to come in. And I will say it definitely a good experience.

It was a good experience but Iyanla was hard! She was poking and prodding and getting down to the nitty gritty as to why…

Yeah, divorce is final but you still have to raise the children and you have to co-parent. And the two parties have to get over their differences and work hard… just for the sake of the children. And that was the goal to get out of that experience.

What you will see coming up… is an in-depth analysis of a relationship. And what you'll see is the hope that two people can resolve differences and come to some common ground and move forward for the sake of the kids and the family.

It's a work in progress…

I don't hold any animosity for my ex-wife and I think that this show was an attempt to help us move forward so that we can basically provide a stronger more supportive nature for the children.
If Iyanla can get Bob and Sheree back on normal speaking terms, maybe her next project should be between Ray J and Kim Kardashian. Cause you know the number of issues between those two go back farther than the entire National Geographic catalogue.
Be the first to receive breaking news alerts and more stories like this by subscribing to our mailing list.