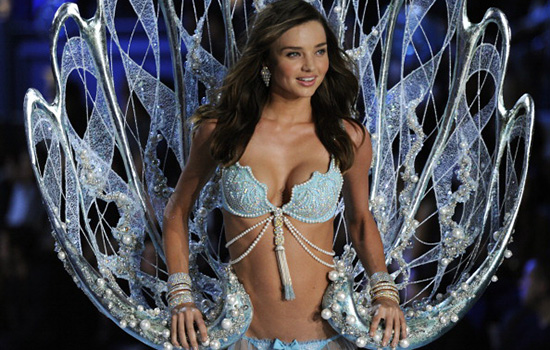 Us Weekly recently reported that Miranda Kerr will no longer be working as a Victoria's Secret Angel because her contract has not been renewed.
Multiple sources told the tabloid that the 30-year-old's $1 million contract wasn't renewed because of Kerr's "difficult reputation." Whatever that means.
Another set of sources told People, "She can be difficult at shoots and appearances. She's not very timely … She's standoffish with the rest of the girls."
The sultry brunette, who has a two-year-old son with husband Orlando Bloom, was also said to be "not a big seller" for the brand … which really doesn't make any sense, considering they're supposes to be selling clothing, and not models, but whatever.
Making matters even more confusing, Ed Razek, President and Chief Marketing Officer for Victoria's Secret said that the company had "no plans to stop working with her" and had in fact invited her to walk the runway in this year's fashion show, to which she "happily" agreed to.
His full statement:
"Miranda Kerr is one of the best models in the history of the business – and easily one of the most popular. She is also a consummate professional. Any rumors to the contrary are simply untrue. While her international commitments have kept her away from us more than we'd like over the past few years, she will always be an Angel to me. We have no plans to stop working with her. In fact, I've already invited her to walk the runway in this year's fashion show and, happily, she's agreed."
Meanwhile, Kerr is denying the rumors that she was dropped from Victoria's Secret because she was difficult to work with.
The model told the Sydney Morning Herald that she was "surprised" to hear reports that she and VS were going their separate ways due to her "difficult reputation."
"I'm sure anyone that has worked with me would agree that it's not true," she said.
Kerr also cleared up the confusion surrounding her contract not being renewed, saying the reason was because she couldn't commit to a full time contract due to other work and family commitments.
"I couldn't commit to them in full and their requirements with everything they wanted from me, but our association still lives," she said.
Be the first to receive breaking news alerts and more stories like this by subscribing to our mailing list.