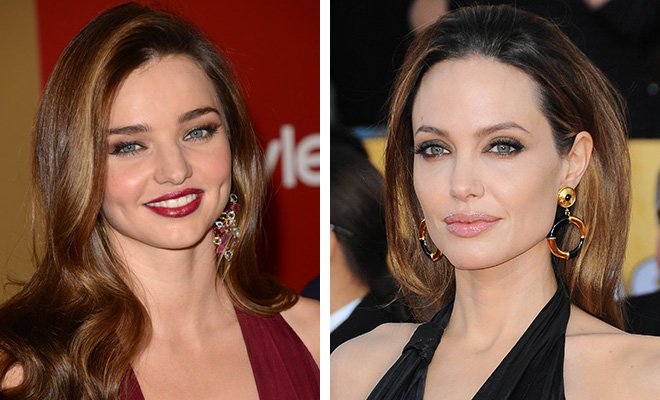 Miranda Kerr may be married to Orlando Bloom but that doesn't mean that she doesn't have room in her heart for someone else. The supermodel was recently asked by TMZ if she has a girl crush. Her response? Seems the onetime Victoria Secret angel has a sweet spot for Angelina Jolie.
"Angelina Jolie is pretty hot," she told the site.
Of course, the Aussie beauty isn't the first  female star to reveal that she has a crush on the actress.
Vanessa Hudgens has said that she adores the Oscar-winner in a 2009 interview with ABC News.
"Everything she does, I adore. I'd like to do an action film where I could kick someone's ass, I want to be strong and empowered. I want to shock everybody," said Hudgens.
Last October, "90210" star AnnaLynne McCord told Us Weekly that she has the hots for the humanitarian as well.
"She's been such an incredible advocate for the fight to end sex trafficking and [participated in] many different humanitarian efforts," McCord said. "It's kind of serendipitous [that] what I connect to the most is this work."
In 2006, Lindsay Lohan was asked by Access Hollywood if she had a crush on brad Pitt.
"Well, he's beautiful. But I've got more of a crush on Angelina though than Brad," she said.
If that's not enough, in 2009, Bazaar published a story by Naomi Wolf that explained why women love Angie. Yup, it's that serious.
Some of the reasons listed in the article include the fact that she's the "ultimate in single-mom chic," her humanitarian work, and the fact that she didn't give a hoot that Brad Pitt was married when they allegedly became involved in a affair while filming the 2005 film "Mr. and Mrs. Smith."
Wolf put it more eloquently, saying that Jolie has an "evident disdain of that social constraint certainly, for better or worse, put her in the same self-entitled category as those men who have traditionally taken what they wanted and let the emotional chips fall where they may."
Jolie recently became a huge inspiration to many women when she revealed that she underwent a double mastectomy because she was act risk for developing breast cancer.
The actress, who celebrated her 38th birthday on Tuesday, has been in a relationship with Pitt for roughly nine years. The pair, who have six children together, became engaged last year.
Though the world has been anxiously waiting for their nuptials to take place, they have yet to disclose any details as to where or when the ceremony will take place.
The star has been snapped looking better than ever over the last couple of days. She made appearances at both the London and Berlin premiere of Pitt's upcoming zombie flick "World War Z."
Be the first to receive breaking news alerts and more stories like this by subscribing to our mailing list.