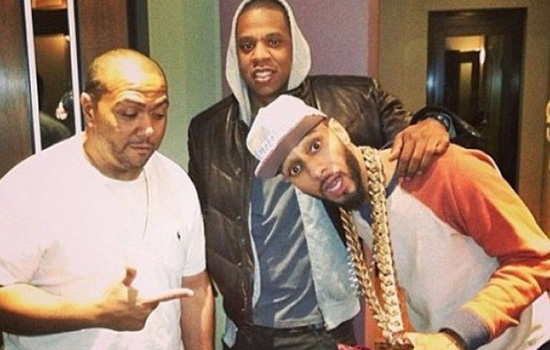 Jay-Z and Beyonce are among some of the world's most talked about celebrities, and while they've always been known for not addressing rumors, it seems as though that has changed as of late.
With the release of Beyonce's controversial "Bow Down" song where she talks about how bitches in the game should bow down to her because she's been on, and now the release of Jay-Z's new song "Open Letter," it looks like Hip Hop's royal couple are done taking the humble route.
In Jay-Z's "Open Letter," produced by Swizz Beatz and Timbaland, the rapper talks about a number of things — including politicians criticizing his trip to Cuba with his wife Beyonce, and his new sports management company — and he also alludes to having a personal relationship with President Obama:
"Politicians never did shit for me / except lie to me, distort history," Hov raps after boasting that he "done turned Havana into Atlanta."

"They wanna give me jail time and a fine — Fine, let me commit a real crime," he says, referencing conservative politician's efforts to investigate his trip to Cuba. "Obama said, 'Chill you're going to get me impeached' / You don't need this sh-t anyway, chill with me on the beach."

******

"I woulda moved the Nets to Brooklyn for free / Except I made millions off you f–king dweebs
I still own the building, I'm still keeping my seats / You buy that bullsh-t, you better keep your receipts."
Swizz Beatz — who can be heard in the background of the song using his famous drops like "right!" and "got damn it!", and also comedian Kevin Hart's famous line "Y'all gon' learn today!" — called into New York's Hot 97, and revealed that they came up with the idea for the song in Jay-Z's office in New York City.
"I had the portable drum machine with me, then we went down to the 40/40 club to watch the game," he said. "Then Timbaland came by and was like, 'That beat is crazy.' Next morning, Jay called me with verses."
LISTEN TO JAY-Z'S "OPEN LETTER" HERE:
I like this new aggressive attitude from Jay-Z and Beyonce. They're both at the peak of their careers where they can afford to put a few people in their place when necessary. This track is going to have so many talking and speculating on a number of things. The number one topic of choice though will probably surround the current status of Jay-Z and Obama's relationship.
Be the first to receive breaking news alerts and more stories like this by subscribing to our mailing list.