The word on the sidewalk is that Chris Brown and Rihanna have broken up … but not because they don't like each other or anything like that (because as we all know, they really really do). But because Rihanna "has moved on and is reshifting her focus to her career and business ventures," a source revealed to E! News.
Rihanna, who is currently wrapping up the final leg of her "Diamonds" tour, is said to be working on the launch of a new perfume, while also continuing her ongoing fashion campaigns, and coming up with new creative ideas for future concerts.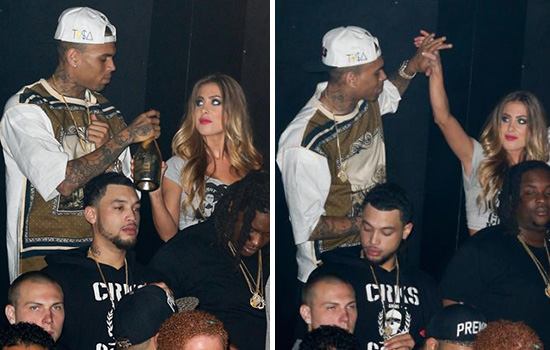 While there is no other man in Rihanna's life, photos recently surfaced showing Chris Brown hanging out with a "mystery woman" at a nightclub in Los Angeles … but the woman in the pictures has made it clear that she and Chris are NOT dating, and she wants everyone to stop blaming her for Chris and Rihanna's break-up.
22-year-old Keisha Kimball — a waitress at L.A.'s Playhouse nightclub —  tells TMZ, "I am always Chris' waitress. I know him and am friends with his friends. Nothing has ever happened. I just work there. In the photos, he was handing me a bottle to drink out of. Of course people are going to twist it another way. I don't go for black guys."

Keisha — who says she's not racist … it's just a dating preference — adds, "Whatever is going on between Rihanna and Chris Brown is between them. I'm not trying to be a home wrecker."
Keisha also mentioned how Chris is normally a great tipper, but last weekend? Not so much.
As for Chris and Rihanna's "break-up," TMZ's sources confirmed that the two have indeed split, but that's normal business for the notoriously on-again-off-again couple, who apparently go from break-up to make-up quite regularly.
Be the first to receive breaking news alerts and more stories like this by subscribing to our mailing list.