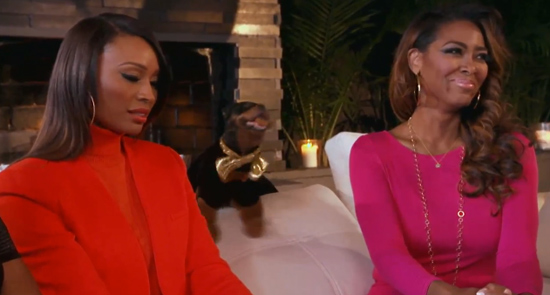 Just in case the women of "Real Housewives of Atlanta" were considering getting a big head about all of their success this season, in comes Triumph the Insult Comic Dog to give them a reality check.
Bravo has made superstars out of the women of RHOA and while NeNe Leakes has used the show's platform to catapult herself into the big leagues of television, the other ladies have been relegated to the backburner somewhat. But Kenya Moore ain't nobody's backup singer, and in a pre-recorded skit for the Conan O'Brien's show, Kenya steals the show. You barely even noticed that Kandi, Phaedra and Cynthia were there, to be honest.
The skit, which was recorded in Cynthia's husband's Bar One, starts out with the ladies waiting on Conan to arrive for the private party they're throwing for him. Unfortunately, he's unable to make it so he sends Triumph in his place. If you know Triumph at all, you know this visit won't be pleasant.
Right from the jump, Triumph digs in and takes a bit out of the ladies' egos by saying, "Where's NeNe? The one that people know?"
READ.
He then proceeds to take jabs at Kenya and Phaedra's workout video beef (who cares?!), Kenya Moore's "Gone with the Wind Fabulous" single (it's awful) and Kandi's sex toy line (it looks like Triumph's manhood).
Watch the hilarious skit featuring Triumph, Phaedra, Kenya, Kandi and Cynthia below:
Be the first to receive breaking news alerts and more stories like this by subscribing to our mailing list.