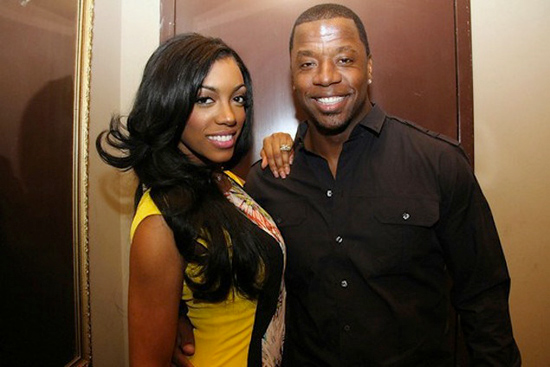 The ugliest split to hit the "Real Housewives of Atlanta" since NeNe broke up with her husband Gregg is ramping up and doubling down on the drama.
Although there were recent reports that Kordell Stewart and Porsha Williams were mending their broken marriage, it turns out that things have only gotten uglier.
New reports have Kordell accusing Porsha of neglecting her duties as a stepmother and Porsha is firing back that Kordell is locking her out of the house. Why, oh, why aren't the Bravo cameras rolling right now?
TMZ has new information on court documents filed by both Porsha and Kordell.
Porsha Williams likes to stay out partying 'til the break o' dawn, and then call police to get her into the house she shares with estranged husband Kordell Stewart — this according to new documents.

"Real Housewives of Atlanta" star Porsha fired the first shot … filing a motion that claimed Kordell was locking her out of the house — and bringing another woman into the home.

But in his response Kordell claims he only locks the house at night for security purposes. He claims the real problem is Porsha frequently leaves home for several days straight … and sometimes comes back between 2:00 AM and 4:00 AM smelling like alcohol.
Kordell claims that the woman he's moved in is just the nanny he had to hire because Porsha is neglecting her duties as a stepmother.
Now wait a minute. How is this supposed to work? Does Kordell expect Porsha to continue the role of benevolent stepmother while they're filing for divorce? Of course he has to hire a nanny to look after his son!
Porsha's claims of being locked out don't make sense unless Kordell changed the locks. Doesn't she have a key to own home or has Kordell been the only one with a set of keys this whole time?
Neither of these claims make a lick of sense. But hey, if Porsha's out getting buckwild, at least we know she's moving on to a good place. However, if she's staying out till 4 am, I can't help but wonder if she's not out at one of those strip clubs she was so opposed to visiting while she was out with the girls in Vegas.
In public though, Porsha credits her friends and family with helping her get through it all.
"Well, when you have strong arms and strong family around you, they cover you – that's what they're there for," she said to US Weekly. "So that's who I'm leaning on. And it's really a blessing to see people, supporters and fans are standing up and just really showing me the love."
On Instagram, she lets Jesus take the wheel.
Ok. So maybe she's just out till 4 am attending midnight prayer sessions with her pastor.
Why don't these two grown-ass people separate like adults and get their own living arrangements so they can avoid all of this stupidity?
Be the first to receive breaking news alerts and more stories like this by subscribing to our mailing list.