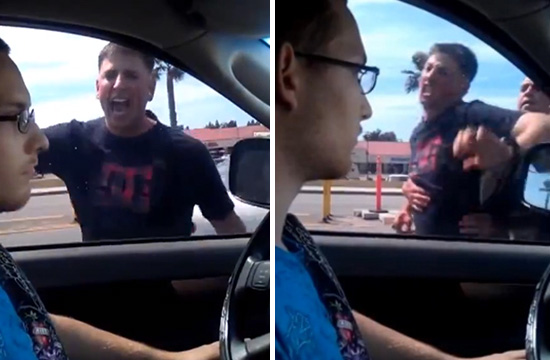 The men and women of the U.S. marines are some of the most elite and respected members of the armed forces. So why is this one marine acting like the spirit of Hulk Hogan has possessed him as he barks at a timid, skinny geek?
Here's the long story broken down shortly according to Gawker: The marine was allegedly breaking shortly in front of the geek driver. After narrowly escaping a fender bender a few times, eventually, the geek bumped the marine's car, causing a few minor scratches. And that's when the guy stepped out of his car and raged, hollered, kicked, screamed and punched the car.
WATCH HERE:
The incident took place at Camp Pendleton and the passenger of the vehicle that was being harassed by the angry marine was also a marine. She just happened to be a woman (the driver is her brother) and disabled.
In an effort to make sense of the madness, Gawker reports that the man has post-traumatic stress disorder (PTSD), which is supposed to explain away his extremely bad behavior.
But I've seen menstruating women with less rage than this guy. He looked like the veins in his neck were gonna burst. It's amazing that he didn't attempt to break the windshield with a headbutt or something.
In the words of Martin Lawrence from "Bad Boys," he needs to "woo sah."
Be the first to receive breaking news alerts and more stories like this by subscribing to our mailing list.