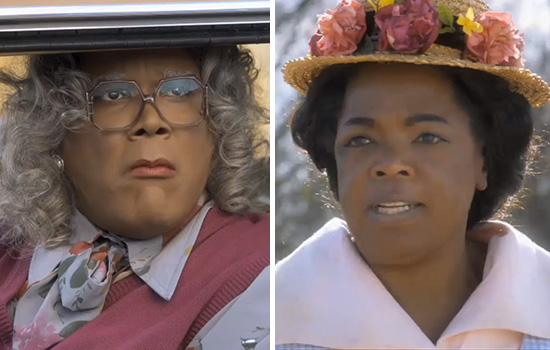 Ever wondered what would go down if Madea met Miss Sohpia from "The Color Purple?" Well, there's no need to wonder anymore, because thanks to a new promotional clip for Oprah's OWN network … we get to see it. And it's pretty hilarious!
In a brand new promo video to drum up publicity for Tyler Perry's two upcoming OWN network TV shows "The Haves and the Have Nots" and "Love Thy Neighbor," Madea rolls up on Miss Sophia as she's riding through the country in her Cadillac and asks her where she can find the OWN channel. And of course comedy ensues from there, as Sophia and Madea have a rib-tickling exchange of words:
Madea: Where's OWN? There's somebody up there, I'm gone ask her … Ma'am, how you doing? [Honks horn] How you doing? Ma'am, ma'am! Excuse me, how you doing? Excuse me, uhm … I'm looking for OWNed, can you tell me where OWN. O-W-N…

Sophia (angry): All my life I had ta fight!

Madea (confused): Girl, I'm not tryna find OWN.

Sophia (still angry): I had to fight the press folks. I had to fight the ratings. I had to fight them haters. Girl child ain't safe in a world full of cable channels.

Madea (still confused): They tell me it's on different channels depending on who your cable provider is. So I just wanna know what is for my cable provider.

Sophia: I loves OWN, God knows I do. But I ain't gone let nobody beat me.

Madea: The network is doing good, relax! You ain't got to worry about beating nobodies.

Sophia: You want a great cable channel? You find OWN like everybody else been doin' [Walks off]

Madea: Well how they been doing that? Sophia! Harpo … who this woman?
Be the first to receive breaking news alerts and more stories like this by subscribing to our mailing list.